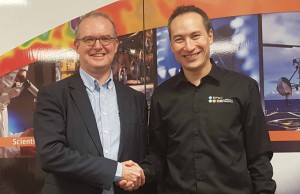 Paul Ryckaert's inspiring career over the past 25 years has been driven by a mission to revolutionize business practises and push the limits of technology - not only for the companies he's worked with but also to benefit society. Paul also believes that such knowledge should be shared and in his spare time, Paul provides advice to companies to help them acquire the professionalism required to find success.
Background
After obtaining an engineering degree at Ghent and Manchester University and business management degrees in Belgium, Paul began his career in 1993 as a Test Engineer for Ford. He then moved to Siemens, first as a Project Engineer/ Manager for mobile phone connectors and then as a Project Manager with all-round responsibility for the Mobile Phone business.
In 1999 he joined Tyco Electronics as a business manager and later became Director of Engineering & Product Management for Communications, Computer and Consumer Electronics for Europe, the Middle East and Africa.
After 7 years in the connector industry, Paul was ready for a new challenge and in 2003, he moved to Barco, as director of their LED Product Management division. In 2006 he became VP of Barco's Media Business Unit in China with responsibility for developing, producing and marketing giant LED screens for sports stadiums and outdoor advertising.
Enterprise
While he had gained invaluable experience and knowledge as a manager in large companies, Paul wanted to be involved more in the entrepreneurial side of things and in his early forties he decided to join Team Industries, a sheet metal company, as a co shareholder and co-CEO. With this move, he became responsible for overseeing production, engineering, purchasing and quality in locations in Belgium, Slovakia and Romania.
Joining Xenics
After four years, Paul was approached by Xenics, a leading provider of advanced infrared imagers and cameras, who were looking for some new blood and new visions to move the company forward. By this time, Paul was also looking for a new challenge and in 2016, he joined the company as CEO.
Over the past two-and-a- half years, one of Paul's main aims has been to steer the company to a more competitive position from which Xenics can successfully differentiate itself from its competitors in three main areas:
1. Developing from scratch. While the company is strong in short-, mid- and long wave IR developments, one of the main focus areas is on designing shortwave detectors from scratch with the development of their own readout circuits and processing their own active material based on Indium Gallium Arsenide (InGaAs). "This enables us to fine tune our products in line with individual customer requirements and particular market needs and to market this unique differentiation using the right marketing and distribution channels."
2. Size - big enough to be credible and small enough to be flexible. For Paul, Xenics's medium size gives it a competitive advantage over the industry giants because unlike the very big players, they can listen to and find solutions for typically smaller, but industry leading companies. At the same time, being a financially stable medium size company makes Xenics a credible partner when dealing with the large internationals looking for long-term stability of supply, something that smaller companies might struggle to achieve.
3. Being vertically integrated and flexible does not restrict volume production. Above flexibility can lead to very differentiating, high performance, high end products but can also be used to design small size, low power, low cost solutions. Xenics is aware that certain market niches can only be opened up below a certain price threshold and wants to play in leading role in this evolution. The unique combination of technology expertise, Read-Out-IC design know-how and a fast response time places Xenics in a favourable position to create innovative solutions to address these volume markets.
Future developments
Consolidation and development of existing markets: Xenics has always been very successful in the scientific market producing complex systems involving high-end microscopes and cameras for life science, DNA and chemical research. But Paul believes there is scope for the development of new products as they are seeing a growing interest in short- and long-wave inspection requirements for machine vision, process monitoring, security and surveillance, transportation and applications for the medical market.
Hyperspectral imaging solutions. A case in point is the increasing interest in hyperspectral imaging devices particularly for quality inspection, food and waste sorting as well as process monitoring. The problem is that while there is an increasing opportunity for camera manufacturers to incorporate this technology, there still remains a lot of potential for technological and commercial improvements.
Xenics' strategy in marketing new technology has always been to engage in an ongoing discussion with the customer to help Xenics and the customer understand the appropriate price points. Paul sees this as an exciting challenge, but he believes that Xenics' experience in innovation and their range of in-house competences together with those of their partners will enable them to find solutions.
As a final point, Paul believes that the next generation of products for the infrared visualisation business will need to be based on an interdisciplinary approach. Rather than seeing optics, lighting, electronics and materials as separate tracks, they need to be seen as a combined whole that can provide one final solution for the customer. This does not mean that companies need to develop expertise in all areas or do everything themselves, but it does require a good overview of the complete system.
What would you have done differently?
"Firstly, there are many things I would do the same. Working for many years in large companies is a big advantage because you learn a certain methodology and a way of doing business. When you become an entrepreneur, you can then draw on your managerial expertise and knowledge which is a great asset."
"One thing I would do differently is to do more networking earlier in my career and focus more on the ecosystem. I frequently realise that you can progress more effectively by stopping, listening and talking to people rather than sitting in your office and trying to do it yourself."
What advice do you have for young entrepreneurs?
"Following Steve Jobs, I would say "Stay hungry and stay foolish" Take risks but also stay humble. It's also important to be patient. Don't expect to be a CEO at 25: wait until you've built up the right expertise."
"Second, it's better to have a B idea with an A team than an A idea with a B team. Make the A team by surrounding yourself with the right people, not only in terms of technical ability but also in terms of human qualities and with the right personalities so you can enjoy work together."
Written by Jose Pozo, Director of Technology and Innovation, EPIC