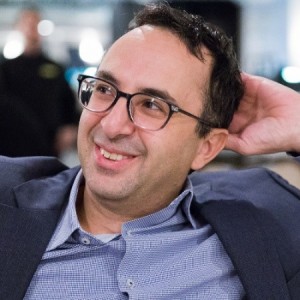 In this article, Jose Pozo, EPIC's CTO, talks to Sam Rubin, CEO of LightPath Technologies, a vertically integrated global manufacturer of proprietary optical and infrared components.
Sam's life has always revolved around optics. His father worked in one of the first laser medical companies in Israel and later started his own company. This inevitably impacted on Sam's choice of career and the decision in 1996, to study optics as part of a BSc in Electrical engineering at Ben Gurion University in Israel.
Xlight Photonics
While still an undergraduate, Sam had the good fortune to work with professor Dan Sadot on optical communication, and in his third year, he started a PhD in fast-tuneable lasers. They published a few academic papers, and the interest from the telecom industry was so great that Sam was persuaded to forego his PhD and to co-found the company Xlight Photonics to commercialise their technology. As Sam recalls: "Back in the late 90s, you only had to say you have some technology in optical communication, and you could raise money".
Their initial dream was to develop an all-optical terabyte router, but as is often the case, the realities of the market made them change course to eventually produce fast- tuneable transponders for telecom networks. By 2002, it had become apparent that in order to survive, they would need to merge with another start-up, Civcom, but market pressure soon made them sell out to a Brazilian Telecom Company.
Sam then took some time off working as a volunteer with youth organizations, advising other start-ups and studying an MBA in finance at NYU. Looking back, the MBA was a key element in his future career, especially as CEO of a public company: "You learn a lot about management, strategy and finance with people from very different backgrounds, which enables you to look at company issues from a number of different perspectives".
Thorlabs
In 2005, Alex Cable, who had known Sam since his time in Israel, offered Sam the position of Marketing Director with his company Thorlabs, a manufacturer of fibre optics, lasers, optical instrumentation and other optical products. Sam's mission was to restructure the marketing operation and build a more global organization and two years later, he had built a global marketing team that was processing over 5,000 online orders a day. In 2007, he was promoted to company Director to oversee various initiatives to improve business and operations including the implementation of lean manufacturing, product development, M&A, and ERP.
Then in 2009, Sam was given the onerous task of moving to China to build a Thorlabs subsidiary from scratch. As he says: "Building operations ground-up in a new country is an entrepreneurial assignment that requires building a complete company by itself with its own local marketing and sales, manufacturing, R&D, distribution and finance". Undaunted, over the next six years, Sam grew Thorlabs China into a successful operation achieving a 53% CAGR with revenues of around $50M.
In 2015, Sam moved back to the US to take up the position of General Manager of Thorlabs to lead the company's imaging systems and life science activities. Over the next five years Sam spearheaded Thorlabs' entry and significant growth in the life sciences market with applications such as multiphoton and confocal microscopes and led new strategic initiatives including new product lines, acquisitions and growth into new markets. During this period, under Thorlab's career development program, he enrolled on a three-year Program for Leadership Development at Harvard Business School, which involved some extremely useful interaction with fellow CEOs and C-level executives. In 2018, he also became Board Advisor of MAGTERA, an early stage start-up delivering breakthrough technology in the field of THz lasers.
LightPath
While working for Thorlabs had been a great experience, after 15 years, Sam wanted a new challenge and in 2020, he accepted the offer to join the public company LightPath as their President and CEO. As he explains, even though at Thorlabs he was very senior and managed some divisions completely independently, he wasn't exactly a full CEO. More importantly, he was attracted by the prospect of working for a public company as it would require the use and development of different skill sets. As he explains, for public companies, the process of obtaining capital for company growth and acquisitions is very different compared with private companies. Also, by publishing its results, a public company gets almost immediate feedback from the market as to whether it's on the right track.
Future growth
Sam sees the following as key for LightPath's future growth:
Core competences: LightPath will continue to design, manufacture, and distribute optical and infrared components, including molded glass aspheric lenses and assemblies, infrared lenses and thermal imaging assemblies, and fused fibre collimators.
New markets for moulded optics: Until now, LightPath have made cost-effective, precision molded lenses in high-volume for automotive, telecom and other sectors which have traditionally required these types of high-precision lenses. But as the industry grows, new volume applications are emerging, such as automotive LIDAR and sensors, where cost is a significant factor.
To meet this demand, LightPath will peruse the same path that has made LightPath successful in the past: to be the most cutting-edge, the most innovative and always to push the limits as to what can be done. In the past they were well known for being the first to mold optics from different types of glass; later, it was for expanding lens diameter up to almost one inch. Now, they are developing other technologies in different capabilities to make molded optics far more attractive in places where they haven't traditionally played a role.
To this end, they will continue to engage in very close dialogue with their customers: listening to what they need and meeting the challenges of providing what their customers would like moulded optics to do in the future.
Infrared optics
In this area they have two capabilities. One is making chalcogenide glass and the other is being able to mold this glass to provide infrared lenses for thermal imaging at a much more affordable price than before. Previously, germanium and even chalcogenide had to be diamond turned, but LightPath can now mold these materials into lenses for use in imaging, which significantly reduces costs. Furthermore, many customers want dual wavelengths and dual bands etc. and the flexibility that LightPath have in the in the variations of materials enables them to make a high-precision, cost-effective lens for thermal imaging and provide the market with new tools that didn't exist a few years ago.
The telecom market
LightPath has always played a significant role in telecom particularly in optical communications, as exemplified with the launch of in and out of fibres and collimating laser diodes. The fused collimator is another example of the innovative approach that LightPath has developed for applications requiring high-power laser delivery. The higher the power, the harder it is to achieve reliably, but LightPath's fused collimator is highly stable and reliable and provides advantages, for example, in the delivery of high-power lasers to fibres.
Challenges of multi-locations
A significant part of LightPath's molded lens manufacturing is in China, while the main site for infrared manufacturing is in Riga and supplementary manufacturing as well as primarily technology development takes place in Orlando. The challenge is to find ways for these different locations to work as effectively as if they were together in same place. In this respect, it will be necessary to build on the good job that LightPath has already done in ensuring that each location has a clear definition of their role in the supply chain and that processes and systems are in place to support that role.
If you could start again, what would you do differently?
"My biggest lesson from the Xlight experience was the need to find the right place or the best role for a person according to their skills and capabilities and not their job title".
"In my case, I founded a start-up because I developed the core technology and that was what gave me the title CEO, but realistically at that point, I didn't know how to run a business or how to develop a full product. So, if I started again, I'd probably give myself a much more technical position and bring in professional managers to run the company".
What advice do you have for the next generation of entrepreneurs?
"Firstly, focus less on your job title and how you want to be seen, and more about doing the right thing and doing it well".
"Secondly, constantly try to be as realistic as possible about how you are doing and where you are going. Don't stick to a specific course just because it's your dream: reality changes and you need to change with it".
"Third, focus on the results of what you are actually doing and don't spend time thinking and dreaming about what you're going to do next or where you're going next. If you do, you'll never achieve the results, and the results are the basis of any successful career".
"Finally, MBAs and training leadership programs like the one at Harvard are really beneficial because by interacting with your peers from a variety of backgrounds, you learn how to see issues from different perspectives".
Written by Jose Pozo, Director of Technology and Innovation at EPIC (European Photonics Industry Consortium)