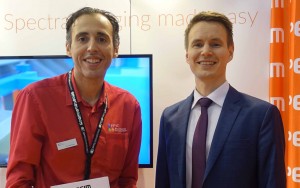 Right from the start of his career, Tapio Kallonen (shown on right) thrived on learning and exploring new concepts, cultures and challenges. In 2004 he began a six- year Masters program in electrical and illumination engineering at Aalto University in Finland. Around half of the program was devoted to economics and international business and included a year's study in economics and electronics at the Universidad Politicnica of Valencia in Spain, where he learned Spanish. This was followed by a research Internship at the Victoria University of Wellington, New Zealand where he worked on energy efficient lighting.
Later in his career, Tapio attended a 12-month executive training programme at Waseda University, Tokyo to acquire the business, language and cultural training necessary for success in the Japanese market.
As Tapio says, "I've always thought it's important not just to know your subject matter: you also have to understand people and in an international setting this means not just travelling but learning their language and culture - especially for westerners who want to be successful in Asia."
Appointment as CEO
Tapio approached his working life with the same enterprizing spirit. After a successful 10-year career in LED lighting, culminating in the position of vice president in sales and marketing for Obelux Oy, in 2018, while still in his mid-thirties, Tapio was invited to join Specim, a hyperspectral imaging specialist based in Finland, as its CEO.
Tapio's mission was to lead the development of Specim's hyperspectral imaging products and to extend the company's technical solutions to machine vision and other industrial applications at a large scale.
Tapio found the move from lighting to spectroscopy fairly smooth as he had been working with a variety of lighting related technology products in many different industries since the end of his studies. And, he adds: "The needs of big industrial players in the lighting and spectroscopy are broadly similar. They are both fighting for the same thing - value added solutions and new technologies that can enable them to do things better, faster and cheaper".
He did not find his new role of CEO to be particularly daunting. Thanks to the Finnish model of engineering training with its emphasis on the acquisition of business skills, and the experience in international business he had gained so far, he was well grounded in economics and international business strategy. However, as he says: "It was a very steep learning curve. You have to understand the technology and the customers and most of all your own people, their strengths and weaknesses and the potentials and threats within the organization. It's been a tremendously great journey so far".
Specim and the spectral imaging market
One of the reasons Tapio was attracted to Specim was the increasing international demand and interest in the type of high-quality spectral imaging devises produced by Specim. The company had invested heavily in new products and had a massive growth potential
Spectral imaging devices can be used to accurately determine the composition of materials and the technology is of great potential use for companies involved in process monitoring systems for products such as food, waste, recycling, beverages, semiconductors, oil and gas etc. EPIC can certainly confirm the growing interest in this technology: at the last Vision show in Stuttgart, which involved more than 120 companies, there was a great deal of interest in hyperspectral imaging. However, despite the need for ultra-fast, high-end, affordable process monitoring devises, the market has been slow to adopt the technology.
Tapio believes that a major reason for this is that, to date, explanations of the technology and its benefits to potential clients have been overcomplicated and to reach a larger audience the message needs to be simplified. In essence, hyperspectral imaging is a fast, accurate and reliable method for measuring the composition of a material in real time. Each material has its own signature, a kind of fingerprint and spectral imaging devises can examine a sample to accurately determine how much of the target material is present and where it is. For this reason, the technology is useful for any company that needs a fast decision on whether a process should stop or continue.
Main markets
For Specim, their two main growth markets are the food and waste recycling industries. For the food industry, the detection of food quality, allergens and impurities is a key challenge across all stages of food production. In regard to waste recycling, plastic waste is creating problems globally and as China is no longer accepting waste from the EU, there will need to be heavy investment in this sector in Europe.
For Tapio, the key message for politicians and professionals involved in these sectors is that hyperspectral imaging is a fast and accurate method for detecting food allergens and impurities and for sorting different types of waste materials. The technology thus has enormous potential for improving health and in terms of waste management can save both time and money and be of great benefit to the environment and society.
Future of Specim
In the last few years, Specim has doubled its personnel and turnover. Tapio adds, "the company is well-managed, has excellent personnel and a wealth of in-house hyperspectral knowledge and the future is really promising".
The company has been heavily investing in the last 3 years in new products, which it has successfully brought to the industry. In the next 5 years, they expect to grow at rates higher the industry average by focusing more on the marketing interface - talking to existing and potential customers and getting the message across about the added value of their products. Specim wants to make spectral imaging easy.
Manufacturing in Europe
Tapio explained that Specim has been prepared for large volumes with existing manufacturing capabilities. Hyperspectral imaging cameras need expertise, clean rooms, a lot of testing and calibration and confirmation of quality during the manufacturing process. Specim has assured this standard of high quality for all products by keeping manufacturing in-house and there are currently no plans to sub- contract manufacturing to companies in Asia.
Future Products
Specim have recently developed the Specim IQ, which for the first time has made hyperspectral imaging truly mobile. It's a self contained, hand held, 1.2 kilogram device and works like a normal camera without the need for cables and bulky equipment. Launched just over a year ago, the Specim IQ is being used by customers both for existing as well as totally new applications in the fields of research, food analysis, crime scene investigation, art analysis, health monitoring, vegetation, and in many other industrial applications. Tapio is convinced that the Specim IQ will open up a whole host of new possibilities for spectral Imaging and will have a huge role in the future.
If you could start again, what would you do differently?
"One of the things I'd do the same is to spend time learning about different people their language and culture. The experience I gained from living and working in New Zealand, Spain and Japan was enormously beneficial".
From a business perspective, Tapio believes there are two things that can always be done better. One is to do the right thing faster to be more competitive. The other is to be more effective in communicating with your partners and customers. "Be better at listening to what they want, what's out there and what is needed. You can never do this well enough as there's always room for improvement".
What advice do you have for budding entrepreneurs?
"I think the key thing is to create trust - trust with your supervisors, your employees customers and partners."
"The second is to always question existing working models and practices and use your common sense to determine if there's a better way of doing things".
"Have ambitious goals for yourself and for your team".
"Be a good communicator: be aware that in order to listen, you have to ask the right questions. It's also important to create an environment where people feel comfortable to give and receive feedback".
Written by Jose Pozo, Director of Technology and Innovation at EPIC (European Photonics Industry Consortium).