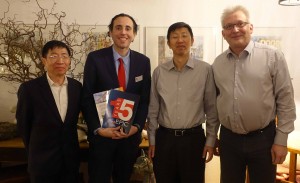 After graduating from the University of Florida in 1983, Teera Achariyapaopan joined Bell Communications in New Jersey. He credits his time with Bell as giving him valuable experience that has enabled him to oversee Focuz today. In 1988, Teera moved back to Thailand and worked for 10 years as an Executive Director of Engineering with Seagate Technology where he learned the ins and outs of high-volume manufacturing. The skills and experience he gained with Seagate held him in good stead for his later role as chief executive for Focuz, a company focused on manufacturing.
After a short stint with another company in Thailand, in 2000, joined a start-up company; Fabrinet to satisfy Seagate's needs for a contract manufacturer. As part of the deal, he bought the Seagate plant in a very good deal and absorbed Seagate's experienced employees. With these resources, Fabrinet was able to ship 2 million self-assembly products during the first month alone.
Originally relying on its contract to supply the needs of Seagate, Teera helped Fabrinet to acquire new customers, such as JDS Uniphase, and he continued to steer the company's profitable operations. In 2009, however, Teera decided to take on the new challenge of starting his own Thai company "Focuz"and after talking with some colleagues, he founded Focuz Manufacturing in mid-2009.
In contrast to his time in Fabrinet, Teera faced great obstacles in starting Focuz. He basically had to start from scratch as he has no readily available facilities and man-power. Worse still, he didn't even have an investor. So Teera talked to some of his friends and his own family who were fortunately willing to invest in his company. Things started to go well, but in 2011, the Focuz plant was hit by a flood just when the company was starting to break even, so Teera had to start from scratch again. However, since then, with his determination and business acumen as well as the invaluable advice from his loyal team, Teera has been able to resume Focuz's operations and lead the company to develop products for big customers and become profitable in the process.
Teera's Vision for Focuz: investment in human resources and expansion into other markets
Teera believes that a company's people are more important than its equipment: equipment can be bought with money but without good and loyal employees, there will be no successful companies. While Focuz is run by its employees, Teera wants to invest more in his staff. In particular, he wants his engineers to acquire more training in order to give better service to Focuz's customers, which will eventually lead to more growth for the company. Focuz is currently concentrating its production for the telecom and datacom market, but Teera is aware of the need to expand into other markets in order to secure Focuz's future profitability. However, he was keen to stress that Focuz will still concentrate on photonics as the industry is discovering more and more applications, particularly in the industrial and medical fields.
Teera's advice to young entrepreneurs looking for success
While luck may play a role in business, Teera believes that entrepreneurs must take advantage of opportunities in the right place at the right time. They must listen to their heart and do the things they want to do, particularly those that fit their personality and strengths. If you just copy what other successful people have done, Teera believes that success will evade you. He also feels that success will be hard to achieve without the support of your family and your team. He stressed that it is essential for a successful CEO to maintain a trustworthy, loyal and experienced team, just like his current trusted team of engineers in Focuz, some of whom have been with him since his days with Seagate nearly three decades ago.
Teera also discussed the importance of perseverance in the face of a challenging obstacle. When he was with Fabrinet, the tech bubble burst but he chose not to shut down the company's operations even when the market seemed bleak. He also remained steadfast when a catastrophic flood wiped out Focuz during its infancy. In both instances, Teera emerged a victor and was able to continue the successful operations of his companies.
Focuz today
Today, Focuz is an EMS & ODM Manufacturing Service Provider based in Bangkok/Thailand with 6,200 square metres of manufacturing area and 535 employees. Focuz provides advanced manufacturing services with extensive experience in hybrid electronic packaging (COB) and packaging of precision opto-electronic devices and modules for OEM in optical communication, biomedical & healthcare, and iIndustrial sectors. Focuz's manufacturing capabilities include wafer dicing, ultra-precision die bonding, wire bonding, optical alignment and attachment, hermetic sealing, burn-in, functional test, SMT, and fiber cable assembly, etc. The products currently in production include
assemblies of industrial light sensors,
Image Sensor packaging for machine vision (line scanner) and medical applications,
VCSEL lighting and optic assembly for dental application,
optical amplifiers, 100Gbit optical transceivers including TOSA/ROSA assemblies, and active optical cable (AOC) for optical data communication industry,
optical HDMI, display port and optical USB for consumer application, and
solar panel and its PCBA for clean energy application.
Focuz is currently serving customers in Europe, North America, Asia as well as Australia and Japan..
Their core competences are: Hybrid assemblies and packaging, fiber optic patch cords production and optical. Focuz is certified for ISO 13485, ISO 9001 & ISO 14001 with all clean room manufacturing areas with ESD control. Focuz also offers dedicated production lines with the highest IP protection.
Written by Jose Pozo, Director of Technology and Innovation at EPIC (European Photonics Industry Consortium).
Photo caption: From left to right--Teera Achariyapaopan (CEO, Focuz), Jose Pozo (CTO, EPIC), Vatchara Lertpiriyasuwat (VP Business Development, Focuz) and Uwe Fink (Business Development, Focuz)