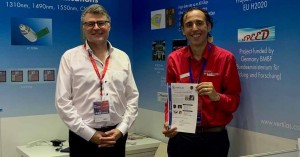 In this article Jose Pozo, EPIC's CTO, talks to Christian Neumeyr, CEO of Vertilas about his 25 years in the semiconductor and optoelectronics industry overseeing complex R&D projects, managing fast-growing business lines and expanding product lines into new markets. Vertilas, based in Garching, Germany, develops and manufactures laser diodes for gas sensing (TDLAS - Tunable Diode Laser Absorption Spectroscopy), optical communications and customer specific applications in the NIR (near Infrared) range.
Early career
In the final year of his degree in electrical engineering at Munich University of Applied Sciences, Christian worked for 6 months for Hitachi Semiconductors in Tokyo, Japan. 30 years ago, it was an exciting and novel experience learning about the sophisticated and traditional Japanese culture and their systematic and innovative business and technology approach. It was necessary to learn quickly at least a minimum of the Japanese language and writing, as at that time almost no signs were in English and only few people outside the company spoke English. After graduating as Dipl-Ing. in 1992, he worked till 1995 as Design and Marketing Engineer for ASICs and microcontrollers at Hitachi Europe's offices in Maidenhead, Uk and Munich, Germany.
With the goal of focusing on ICs and solutions for communications applications and working in a company's headquarters, he joined the networking group of Siemens Semiconductor Division in 1995, which later became Infineon. Initially as marketing and product line manager for communications ICs, he was promoted to Marketing Director of the Fast Logic business unit with responsibility for the product roadmap, applications, and technical and product marketing.
Multilink Corp
In 2000, two years after completing an MBA at the Henley Business School, Christian was offered the opportunity to join Multilink Corp., a telecommunication startup in the US as Vice President of Business Development. His role was to develop its business strategy for silicon germanium-based integrated circuits and, as he recalls, it was a very exciting time: the market was booming, revenues were growing fast and he was working in a highly innovative and international environment with colleagues from Asia, Europe and the US. One of the highlights was a successful IPO (initial public offering) of Multilink at the stock exchange NASDAQ.
Broadcom Corp
But by the beginning of 2002, the telecoms bubble burst and markets nosedived. During this phase, Christian was offered a position with Broadcom Corp. in California (US) as Director of Business Line Optical Transport. His role, once again, was to manage and develop business line strategy, business planning and product line management.
By 2003, the market and volumes were beginning to pick up, but there was a big price change with price reductions of up to 50- 80% on some products. Consequently, one of the major challenges for the industry was to streamline the product portfolio, launch new products quickly and simultaneously reduce costs significantly to maintain decent gross profit margins. Many companies that were not ready to launch new products or too slow to adapt and become cost-efficient went out of business while those that managed this change survived and eventually became very successful.
Reflections on the semiconductor industry
An international industry: Working and living in Japan, the UK and the US gave Christian the opportunity to work in multinational and multi cultural teams and exposure to alternative ways of thinking and working. In fact, one of the main attractions for initially building his career in the Semiconductor industry was because it was such an international industry. As he puts it: "The main reason why the semiconductor industry has been so innovative and successful is because it has brought together the best talents from all over the world to work in teams to develop new products and make this quick progress possible".
Technology consultancy
In the middle of 2004, Christian moved back to Germany to be closer to his fiancé and start a consulting company to provide marketing and sales services for component technology companies in Europe. His first clients were a US semiconductor company and Vertilas, a spin-off from the Technical University of Munich developing and manufacturing laser diodes for gas sensing and optical communications.
Christian had first got to know the company when working for Multlink, and on his return to Germany, Vertilas's investors asked him to help the company build a business strategy. Things went so well that after one year, in 2006, he was asked to become CEO of the company.
Vertilas: The technology
In brief, Vertilas VCSELs (vertical-cavity surface-emitting lasers) are highly efficient and high peformance semiconductor-based lasers that emit near-infrared (NIR) light. These lasers are well suited to be deployed in industrial sensing and communications applications.
For the gas sensing market, Vertilas produces a variety of lasers from 1.3 microns all the way up to 2.3 microns. They have an optimised thermal design to allow laser operation over a wide temperature range (e.g. -40°C to +80°C), with a side mode suppression ratio of 40 dB and more. Furthermore, their lasers operate at a voltage of around 1.5 to 2 volts and only consume 10 mW to 20 mW in electrical power.
But their most important USP for the sensing market is the fact that their lasers can be tuned by up to 4 nanometres just by changing the bias current. This versatility and flexibility give Vertilas a big advantage over other laser technologies.
Applications
Initially, the idea was to use their technology for the telecommunications market, but by 2005 the sensing market was also showing good growth potential. This market could be exploited by Vertilas's single mode VCSEL technology which was capable of providing a tunable laser for 'tunable diode laser absorption spectroscopy' (TDLAS) systems. Accordingly, Vertilas has focused on the following market segments:
Industry and safety market: This is one of the main market segments that Vertilas is addressing right now, particularly gas detection systems for the oil and gas industry and mining operations. Leak detection of natural gas represents also a wide field to apply TDLS products, in particular in countries where natural gas is used for heating and cooking. This market segment can be divided into leak detection for infrastructure, such a s gas pipelines, and the market for gas detection in buildings and homes. While the TDLS technology is already successful with highly effective products for the infrastructure segment, the price pressure for sensors in the high volume markets still represents a barrier to entry. Most of today's TDLS products range in price from thousands to more than 10 thousand US dollars and are too expensive for most deployments in homes and buildings. However, with innovation, standardisation and production enhancements, the cost of dedicated TDLS products can be greatly reduced, and with its fast and accurate measurement and long lifetime will eventually also be successful in more price sensitive markets.
Environmental monitoring: A growing awareness of the effects of certain gases, such as CO, CO2, CH4, NH3, NOx, potentially causing problematic indoor and outdoor air quality levels and being linked to health issues and climate change, presents a need for efficient sensors to monitor these gases. TDLS products in this segment are not widely deployed yet, but the build out of smart cities can open a large market potential.
Current applications, where TDLS system are being deployed, include the monitoring of landfill waste sites and furnaces from waste burning, power generation and steel production. Hazardous gases from these applications include ammonia, hydrogen chloride, sulphides, methane, carbon dioxide and other gases. Further solutions are being developed for live monitoring of car exhausts via drive-through measurement stations, but these are still in the development stage.
Other markets: Christian sees potential in the medical market, for example, breath analysis, although this is still in an early stage. There is also potential for farming and agricultural applications, for example monitoring of live stock for emissions of ammonia and methane and the monitoring of crops for CO2 and moisture content to increase yields.
Challenges for the future
Price: Most of the markets mentioned above are small to medium-size and they are likely to stay that way unless prices fall. Christian sees many parallels between the laser sensing market now and the optical communications market in the early nineties. At that time, optical telecommunications was still a high-end niche market and the main players were developing and producing proprietary boards, systems and even their own components. But things changed with the introduction of standardization and the ability to scale the technology, which brought down costs.
For Christian, the photonics sector needs to adopt the same approach, particularly as laser based sensing systems are competing with other technologies, such as semiconductor and electrochemical sensors that both have a low-cost point compared with TDLS products. To this end, one of Vertilas's main goals is to bring down the cost of TDLAS systems to enable their customers to address higher volume markets.
Need for legislation: However, demand for environmental monitoring and industry and safety applications will not grow significantly without government legislation. Standards need to be established for precision and frequency of measurements, the number and location of measurement stations. In the same way, without regulations, farmers will not have the incentive to monitor live stock emissions market potential will stay relatively small.
Absorption lines: There are also some technical challenges. Some gases have absorption lines at very high wavelengths of 3, 4, or 5 microns. Lasers that can detect gases at this wave length are difficult and expensive to produce, which limits the volume potential.
What would you do differently if you started again?
Technical knowledge: " One thing I'd do is to stay longer in R&D. In the semiconductor and photonics industry, I strongly believe that a solid understanding of the technology and applications in combination with strong business skills is the key to being a successful manager. I invest significant efforts to understand the details of component production steps, as well as the component design and its deployment in a customer's system. This enables one to develop decisions based on a solid understanding of all factors impacting the business case. The problem is that once you are on the business side, you have only limited time to dig into new technologies and applications. Staying longer in R&D gives you more time to gain in-depth know-how of several technologies and applications, and applying it quickly to your business responsibility."
Goals: "It's very important for both people and companies to be goal oriented and to generate a plan to achieve those goals: it's not just about doing something; it's about the results you actually achieve in a given time frame. But of course, you have to be flexible and alert of changes: then you need to re-assess your goals and strategy and adapt to the new situation. In my early years I was extremely goal-oriented, but a bit more flexibility could have in some cases opened a faster route to achieve one's goals.
What advice to have for young entrepreneurs?
Team motivation: "It's very important in your professional career to learn how to motivate the team to define and achieve the goals. This doesn't happen by just writing the goals down: people need to be made to understand both what they are working for and the time limits for achieving them. This is especially important in international teams where people from different cultures approach tasks differently".
Perseverence: Business is about ups and downs. When the next down turn comes, as it inevitably will, don't give up: further develop your ideas, products and technology until new opportunities can be addressed and the market demand recovers.
Written by Jose Pozo, Director of Technology and Innovation, EPIC