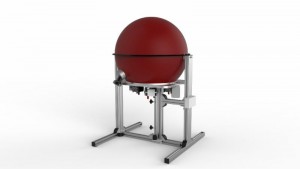 Fisheye lenses are used on cameras to create a hemispherical (panoramic) photographic image over a very wide angle >180°. Since these cameras map a hemispherical image in front of the objective lens on the image plane, reference calibration light sources with a hemispherical illumination field over this wide area are required for testing and matching uniformity.
Also a highly uniform output luminance is needed for white balance of the fisheye camera.
Other areas where fisheye lenses are found include planetariums, flight simulators, IMAX Dome and hemispherical (panoramic) photography in agriculture, environmental studies and entertainment.
Gigahertz-Optik's ISS-50-LU-FE Integrating Sphere Source provides a highly homogeneous luminance distribution and enables white balancing with three different light spectra adapted to different lighting conditions to suit the intended applications.
Gigahertz-Optik's SC-05 System Controller with touch-screen display powers and controls the ISS-50-LU-FE using electronic modules that are specifically designed to meet the requirements of the uniform light source, its three lamps, the interchangeable filter wheel, variable apertures, and the RGB monitor detector.
Internationally traceable luminance, spectral radiance and color temperature calibration is performed and certified by Gigahertz-Optik's optical radiation calibration laboratory following ISO 17025 guidelines.