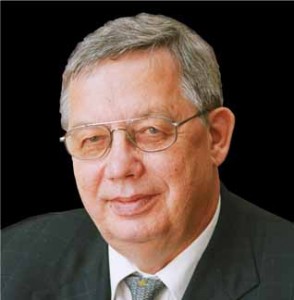 IPG Photonics announced the passing of beloved founder and Chairman and former CEO Dr. Valentin P. Gapontsev.
Dr. Gapontsev had over forty years of experience in the field of non-radiative energy transfer in rare earth ions and solid state materials. With this scientific background, he predicted an effective high power fiber laser when fiber lasers had output powers of several watts. In his 1990 paper discussing the theoretical feasibility of a high power fiber laser with kilowatt scale average output power, he set in motion his quest and mission to develop fiber lasers into a more reliable and cost-effective lasers. With IPG's commercial fiber lasers now at tens of kilowatts, Dr. Gapontsev had largely realized his 1990 prediction. He is widely credited with having created the fiber laser industry by manufacturing reliable, cost-effective and higher power solid-state lasers that can be used in a growing number of applications. Even today, his vision continues to guide innovation and development for new laser architectures, mid-IR, UV and ultra-fast lasers grounded on his deep knowledge and research into laser glasses.
Valentin Gapontsev was born in Moscow, near the beginning of World War II, the son of an artillery captain. In 1946, he moved with his family to Lviv in western Ukraine. Dr. Gapontsev was educated at the Lviv Polytechnic Institute and the Moscow Institute of Physics and Technology, receiving a Ph.D. From 1967 until the early 1990s, he worked at the Soviet Academy of Science, where he held the positions of Senior Scientist in Laser Material Physics and Head of Laboratory.
He founded IPG in 1990 using his scientific expertise in laser materials and optical science. Dr. Gapontsev overcame many difficulties, mainly starting a high-technology company as an academic researcher with no business experience and with no capital. He shortly proved himself by winning a large supply contract from a large European telecom equipment manufacturer and subsequently opened technology and manufacturing facilities in Germany in 1994, followed by the US and Italy. While other companies outsourced development and production of components, he went in the opposite direction championing IPG's vertically-integrated business model that leads to faster development time with improved results, higher margins and better protection of intellectual property. IPG listed its shares in 2006 on the NASDAQ Global Market (ticker: IPGP) and became a member of the S&P 500 in 2018. IPG Photonics now employs over 6,000, has manufacturing facilities in the US, Europe and Asia, with sales offices world-wide.
He is widely credited with having created the fiber laser industry by manufacturing reliable, cost-effective and higher power solid-state lasers that can be used in a growing number of applications. Dr. Gapontsev is the named inventor on over 100 patents and author of over 200 scientific papers.
Dr. Gapontsev was universally admired for his vision and success in scientific innovations married to entrepreneurial drive over the last thirty years. He was a passionate leader for IPG, leaving indelible marks on everything and everyone he touched.
His awards and recognitions include:
In 1999, the Optical Society of America honored him with its Engineering Excellence award.
In 2001, Worcester Polytechnic Institute granted him an honorary degree of doctor of engineering for his visionary leadership in the emerging field of photonics and for the business acumen that has positioned his company strongly within the global marketplace.
In 2006, Dr. Gapontsev was New England Ernst & Young Entrepreneur of the Year® Award Recipient in the category of Industrial Products and Services.
In 2009, the Laser Institute of America's (LIA) awarded him the Arthur L. Schawlow award. The LIA recognized Dr. Gapontsev as "the father of the fiber-laser industry as it is known today, who has pioneered the field in five decades of academic work and as the founder and CEO of a global technology company that continues to transform the laser industry." The Schawlow award, which was first presented by the LIA in 1982, honors individuals who have made distinguished contributions to applications of lasers in science, industry, education or medicine. The award is named for Professor Arthur L. Schawlow, who received The Nobel Prize in Physics in 1981 for his contribution to the development of laser spectroscopy, and is LIA's highest achievement award.
In 2010, the SPIE listed Dr. Gapontsev as one of 28 "Laser Luminaries" who made substantial contributions lasers during the 50 years since lasers were invented.
In 2011, he received the Russian Federation National Award in Science and Technology for his set of innovative designs and his creation of high-quality production of fiber lasers and fiber optic backbone and local connection systems. The Award was presented by Russian Federation President, Dmitry Medvedev to Dr. Gapontsev as one of the best representatives of Russian science and art.
In 2011, the Optical Society of America honored Dr. Gapontsev by electing him as a Fellow of the Society for "technical leadership in developing high power fiber lasers and vision and business leadership in commercializing high power fiber lasers." The OSA Fellow designation is awarded to OSA members who have made significant contributions to the advancement of optics. The number of Fellows is limited by the Society's bylaws to be no more than 10% of the total OSA membership.
Dr. Eugene Scherbakov, Chief Executive Officer, said "Valentin's passing is a tremendous loss for the IPG community and the larger photonics world. Valentin's technical innovations, strategic vision for the capabilities of fiber lasers and entrepreneurial drive transformed the laser industry and industrial automation to the point where lasers are finally cost-effective, reliable and effective tools that have mass applications in global industrial production. Recognized as the Father of the Fiber Laser Industry, his leadership and unique strategies enabled IPG to be at the forefront of rapid technological developments, and will continue to inspire us to strive for greatness in all that we do. Our love and thoughts are with his wife and family during this profoundly sad time."
Gifts in memory of Dr. Valentin Gapontsev may be made to the Massachusetts General Hospital in support of Gapontsev Family Endowed Chair in Surgical Oncology. Gifts can be made online to Dr. Motaz Qadan's Liver and Pancreas Research Fund 230899 under the line "Designate this gift to a specific program or area".