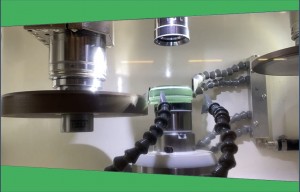 Tecnottica Consonni, an Italian company specialising in the production of optical parts and components and the design and development of complete optical systems primarily serving the aerospace industry, has reported strong growth in the past year. Primary export markets includeFrance, Germany, the United States, Canada, Latvia, and Norway, recent figures show that orders are up 6% over 2021. Picot-Clémente, EPIC's Photonics Technologies Program Manager, spoke with Angelo Fasoli, CTO of Tecnottica to learn what drives this 64-year old optics manufacturer.
Early career
After the second world war, Angelo's grandfather, Angelo Consonni set up a small business making glass lenses for opticians in the Milan area. He was a talented glass worker and in 1957, he established his own shop, Tecnottica Consonni. By the late 70s, the business had grown to a workforce of around 20, but unfortunately, in 1979, Angelo suddenly died, leaving the business to his two daughters Cecilia and Ester.
Over the next 10 years the two women struggled to keep the company solvent, and, as neither of them had any knowledge of optics, they were completely reliant on the help and advice of their employees. Angelo was born seven years after his mother started running the company and he still has vivid childhood memories of his mother and aunt staying at work until late at night and worrying about company finances.
Having grown up in the world of optics and with an overwhelming desire to do whatever he could to help his mother and aunt in their struggle to manage the company, at age of 15, Angelo decided on a career in optics. Accordingly, after high school, he studied optics and optoelectronics at the "Galileo Galilei" State Industrial Technical Institute, where he was trained to use optical machines for polishing glass. This was followed by a degree in physical engineering, with a focus on nano-optics and photonics at the Polytechnic University of Milan. In February 2011, after completing his thesis on a 400-1700 nm range high-resolution apochromatic lens for automotive applications, he joined his mother and aunt at Tecnottica Consonni Srl as Technical Manager.
Tecnottica Consonni Srl
As Angelo explains, by the time he joined the family business in 2011, his mother and aunt had totally transformed Tecnottica into a high-tech optics company. Starting in the 1980s, they had moved away from optical components, mainly lenses, for ophthalmic applications and into the manufacture of components for industrial applications like magnifiers and lenses for microscopes and cameras. But the big jump came in the early 2000s when, aware that their traditional industrial markets were in decline, Cecilia and Ester were advised by one of their optical machine suppliers to replace their old analog machines with CNC centers and move into metrology. With these machines, the company was able to carry out automatic grinding, polishing and the centering of interferometers with total control over the polishing process together with the ability to provide certification. In 2020, the company bought two more CNC centers for large diameters from 150 mm to 300 mm, which opened doors for new customers working with aerospace systems, who needed high quality lenses with large diameters.
Based in Calco, 35 kilometres north-east of Milan, Tecnottica now specializes in the manufacture of spherical and planar optical components in both glass and plastic materials as well as finished optical systems for imaging and illumination devices. Their range of products is one of the most varied and complex of the optical and photonics market and are used in applications ranging from imaging and lighting to optoelectronics, optomechanics, photonics, lasers, biomedical sciences, renewable energies such as solar and photovoltaics and aerospace.
In addition to standard production, they offer a wide range of complementary services, like the application of anti-reflective and high-reflective coatings, thermal and chemical tempering of glass substrates, engineering and modelling of imaging and lighting optical systems, construction of mechanical elements for the housing of the optics as well as assembly, testing and final certification of single and finished optical systems.
Central to their philosophy and business model is customisation. For this reason, they don't have a product catalogue; as Angelo explains: "What I always say to my customer is that these are our capabilities in terms of diameter range, these are the materials we can work with, so feel free to send me your drawing and we can adapt our production to your needs"
Another of Tecnottica's USPs is flexibility: they can manufacture only a single component or carry out medium to high volume production of up to a few hundreds of pieces according to the customer's requirements.
With Cecilia and Ester now retired, the company is led by the younger members of the family, namely, Angelo Consonni's grandchildren: Angelo (36 yrs.), Angelo's younger brother Alberto (28 yrs.) and their 40-year-old cousin Francesca. Despite their youth, over the last three years, they have grown the company from a workforce of 25 in 2019, to 32 in 2022, and last year, exports to customers in France, Germany, the US and Canada accounted for 45% of their turnover. This year, they are confident of achieving a target they set themselves four years ago - to reach a turnover of €5 million with 50% of revenue coming from exports.
The future
In terms of markets, the purchase of the two CNC centers enabling diameters of up to 300 mm, has given the company the opportunity to gain a lot of expertise working on projects related to lasers for astronomical and space applications. And although quantities are relatively low, Angelo sees these types of projects as having a big growth potential. However, one of the problems of working on astronomical and space applications, especially with metrology, is the large amount of time that has to be spent on providing certification, which is required for the whole production process. A second challenge is that the growth in the laser market is causing problems in sourcing substate materials like fused silica, which is becoming increasingly difficult to find with lead times of up to 36 months.
As regards production, a major goal is to rely less on outside suppliers and move key processes, in-house. One of these processes is optical coating, where the need to continually deal with external partners for coating services is slowing down Tecnottica's production activities. As a result, they have invested in two new coating machines and within the next two months they will open their own coating facility in Florence. A second project designed to speed up production involves the development of their own mechanical shop to manufacture polishing tools.
While these investments are part of a long standing company policy to keep the company competitive, moving these processes in-house will create two main challenges. The first is quality, i.e., how best to combine their existing expertise with their new coating capabilities to achieve the same or even best quality than that provided by their partners. The second problematic area is the recruitment and retention of trained and skilled personnel. As Angelo explains, the operation of a coating machines requires highly skilled and experienced people, and it took them some time to find two suitably qualified technicians for their coating facility in Florence.
But the recruitment problem is not just with coating processes - it pervades the whole area of photonics and optics. One of the problems in Italy is that, unlike in Germany, there are no technical apprentice schemes for school leavers to learn, for example, how to polish lenses. As a result, Tecnottica have had to take young students from standard mechanical schools and teach them how to do the job, with varying degrees of success. To overcome this problem, five years ago, the company initiated its own training program to equip young people with the skills to enable them to become the next generation at Tecnottica. Key to this scheme, and also as a way of helping to retain existing personnel, is a philosophy of fostering a family spirit within the company and an environment supportive of family responsibilities and the individual needs of employees. For Angelo, maintaining a close connection with his employees and treating them as people rather than just as a number is an important part of his job.
If you started again, what would you do differently?
"As regards the company, I would push for having our own coating facility four or five years earlier. Not having an in-house coating facility has resulted in lost orders and has slowed us down a little. But now we have it, it will be a big jump for us because it will open up a lot of new possibilities.
At a personal level, if I started again, I would get experience in another company before starting at Tecnottica. Everything I know I've learnt at Tecnottica, and while I feel good at the moment and I've been reasonably successful, I think it would have been useful to get some alternative experience."
Written by Jérémy Picot-Clémente, EPIC's Photonics Technologies Program Manager.