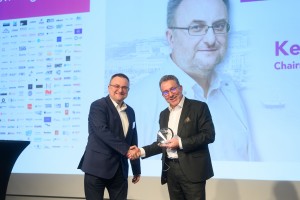 EPIC (European Photonics Industry Consortium) has announced Kestutis Jasiunas as the recipient of the EPIC Lifetime Achievement Award for his outstanding contributions and leadership in the laser industry. Jasiunas, the Chairman of the Board of EKSPLA, has led the company to become a major player in the global market for scientific picosecond lasers.
Born in 1959 and a graduate of Vilnius University, Jasiunas began his career at the Institute of Physics of the Lithuanian Academy of Sciences before co-founding EKSPLA in 1992. Under his leadership, EKSPLA has developed and manufactured cutting-edge femtosecond, picosecond, and nanosecond lasers and laser systems for scientific and industrial institutions. The company occupies more than half of the global market for scientific picosecond lasers and is the only manufacturer of SFG spectrometers for studying material surfaces.
Jasiunas is an active member of the boards and councils of various engineering-technological organizations, including the Lithuanian Engineering-Technological Industry Association LINPRA and the Lithuanian Research Council. He has been awarded numerous honors, including the Cross of the Knight of the Order for Merits to Lithuania, the National Progress Award, and various prizes.