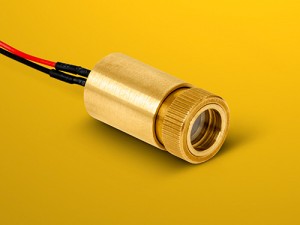 According to Laser Components, the absolute smallest modules in the world contain the laser diode, drive electronics, and optics all in a metal housing. They can be operated directly with 3VDC without additional electronics. The integrated APC (automatic power control) electronics allow the laser diode to be operated automatically in the working point with the desired output power, increasing the life expectancy of the module. The smallest modules have a diameter of only 3.3mm at a length of just 7mm.
In total, dot lasers with a collimated or focusable beam at 635/650/785/850nm are available for selection in twelve different kinds of housings. Some modules are available with lines or crosshair pattern generators.
LC LMD modules are the right choice if you are looking for an easy and inexpensive solution in large quantities. Typical applications for these laser diode modules are consumer products.
Line lasers can be used to show lines where material has to be cut or separated. The typical application is to display the cutting line in front of a saw or under shears to guarantee the correct feed of the material to be cut.
Repeatedly placing and removing palettes in and from the same place is rough on colour floor markings. If you use laser lines to mark loading areas, the markings never need to be replaced.
Lasers ensure the correct positioning of lifting equipment like coils, cranes and other hoist. They give positioning aid to the operator in order to minimise the risk of damage. A simular principle can be used with robotic arm postioning for pick place applications.
Dot lasers provide solutions for marking the origin of machining ordinates or positioning workpieces. 2D cutting plotters need a reference on the material that has to be cut. A point laser with a known, fix position offset to the cutting tool helps you to check if the material you want to cut is placed correctly respectively if the cutting head starts at the right position. Laser points can be used to align objects that lack straight or perpendicular outlines. Three points may mark a circular outline. If an object has an irregular outline or distinctive features like grooves, gaps, recesses or mechanical marks, two or more laser points may define the position. Certain tasks may be solved by using combinations of points, lines or crosses.
Crosshair lasers for rectangular objects may be positioned by projecting a cross or two perpendicular lines. However, the single lines must be long enough in relation to the object to guarantee proper alignment. Two crosses at opposing corners of a rectangular shape may define the exact position, e.g., of a label.