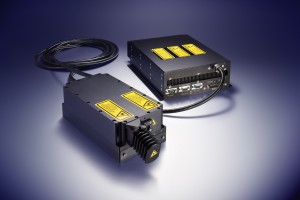 Spectra-Physics introduces VGEN-G-HE, a new line of high-energy green fiber lasers. According to the manufacturer, the new air-cooled lasers deliver double the pulse energy and peak power of previous green fiber lasers. Especially in terms of beam quality and adjustable pulse widths, VGEN-G-HE is designed for 24/7 manufacturing of PC boards, ceramics, batteries, solar cells, touch screen displays and other devices and materials.
VGEN-G-HE delivers >200 µJ pulse energy and >20 kW peak power at 532 nm and is available in >10 W and >20 W versions. With software-adjustable pulse widths from 2 to 20 ns and repetition rates from 50 to 700 kHz, the new lasers offer flexible performance in an air-cooled package for micromachining processes in volume manufacturing.
Spectra-Physics also introduces a higher power version of its VGEN-ISP-POD pulse-on-demand pulsed IR (infrared) fiber lasers. With >30 W output power, the new laser provides high throughput combined with user control of each individual pulse, enabling high-resolution raster/image marking and precise micromachining of fine structures.
Spectra-Physics' fiber lasers are designed and tested with the goal of long-life operation at low operational cost and are conceptualized for demanding 24/7 manufacturing applications. Housed in an assembly that meets industrial standards and fitted with a metal armored fiber cable, Spectra-Physics' fiber lasers deliver a near diffraction-limited output beam.
Spectra-Physics' new VGEN-G-HE lasers will be featured at Laser World of Photonics, Messe München, Munich, Germany, 22–25 June, 2015. Spectra-Physics will be giving live demonstrations in hall A2 at booth 307.