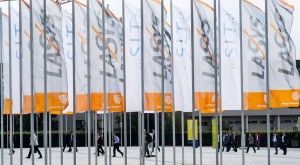 Laser systems are also not immune to the exciting era of Industry 4.0. That's because they now form an important integral part of networked production processes. In future machines will actually organise themselves.
This means that laser systems must be able to communicate, must be intelligent and must be able to be integrated in fully automated production. Exhibitors at LASYS 2018, for example, are working towards achieving this objective. "Laser production solutions within the meaning of Industry 4.0" will be a key topic in this respect. LASYS, international trade fair for laser material processing, will be held at the Stuttgart Trade Fair Centre from 5 to 7 June 2018. The trade fair is unique, covers different industries and materials, and focuses on innovative laser systems and processes together with services for laser material processing.
Industry 4.0 needs smart laser marking systems
As an universal tool, the laser now plays an important role in manufacturing industry. Its range of applications is increasing continuously while innovative laser systems are becoming increasingly more efficient and more economical. Modern laser marking systems have now become widespread. The LASYS exhibitor Trotec is a pioneer here in the area of Industry 4.0.
The objective of the fourth industrial revolution is to increase productivity through intelligent, networked production systems. For example predictive maintenance 4.0 will reduce downtimes and, thus, increase machine availability. The data are sent to the SAP MII (Manufacturing Intelligence and Integration) module. A maintenance order is also created and the maintenance engineer receives information simultaneously by e-mail and through a SAP app.
Laser marking of medical stainless steel instruments: contrast ratio and corrosion resistance improved
Laser marking systems are vital, especially in fully automated production. That's because individualised mass production is very much in vogue.
This means that the modern production environment is characterised by many different product variants. It is therefore all the more important to mark components so that they can be traced. Depending on the utilised material, laser marking methods such as engraving, material removal, tempering, staining or foaming enable the components to be permanently marked. Clear traceability – place and time of manufacture – is therefore ensured, for example, in the event of damage. This is essential in some industries, e.g. the automobile industry or medical technology.
The laser marking solutions of the LASYS exhibitor Coherent-Rofin pay particular attention to biocompatibility and corrosion resistance of direct marking of medical stainless steels.
Laser marking systems can cope with nearly every material
The high flexibility of laser marking systems is demonstrated by various characteristics: laser marking can have any shape and any content.
Identification texts, numbers, codes, symbols or images and their size can be quickly adapted and individualised with the aid of a computer. Laser light replaces ink or printing ink. With fast moving workpieces the writing process takes place "on the fly". There is practically no material which a laser cannot inscribe. Metals, plastics, ceramics, glass, organic substances such as textiles, wood, paper, leather or even fruit. Depending on the type of material, different marking methods and beam sources such as solid-state lasers and CO2 lasers are used.
LASYS 2018 will feature different laser applications for all industries
The application areas of laser material processing systems will not only revolve around laser marking at LASYS 2018 in Stuttgart, but will also represent the wide range of tasks such as laser-based cutting, welding, structuring, drilling, cleaning, hardening and assembling across all industries.
Representatives of the mechanical engineering industry, motor vehicle construction, the electrical and electronics industry, the optical industry, plant and apparatus construction, the metal working and processing industry, medical technology, the plastics industry, tool and mould making, and the semiconductor industry will be in exactly the right place at LASYS 2018.
Not only will they have the opportunity to find solutions for their production problems or new ideas for the use of lasers,they will also be able to refresh their knowledge in the wide-ranging accompanying programme.