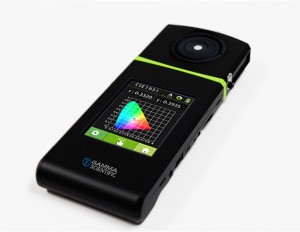 Gamma Scientific announces the release of its new line of high precision handheld spectrometers. While the unit is particularly well adapted for applications in Horticulture, uses in Photography, Visual Merchandising, Health and Safety and General Research are also particularly well served with the technology.
The unit has also generated great interest among manufacturers and installers of lighting solutions, whether traditional lamp-based sources or LED devices. The PG100N provides a robust and reliable solution for light measurement with fully NISTtraceable performance. Through an integrated, high resolution color display, parameters such as LUX, CCT, Chromaticity, CRI and SPD can be viewed instantaneously or monitored over time.
The CMOS linear image sensor is effective from 380nm in the UVA to 780nm in the NearInfrared. In addition to internal data logging, downloads via SD card, USB port or Wi-Fi mode allow data tracking and analysis with download capability in Excel and JPG formats.
The detector head can be removed for optimal positioning, and operating time is up to 5 hours on a full battery charge. Units are in stock in the company's warehouse and available for rapid delivery. For over 50 years, Gamma Scientific has delivered highly unique, state-of-the-art measurement solutions for manufacturers and users of light sources, sensors and displays. Products include high precision spectroradiometers, calibration light sources, goniophotometers, integrating spheres, thin film measurement systems, and LED testers and sorters.
The company also operates an ISO 17025, NVLAP accredited laboratory (NVLAP Laboratory code 200823-0) for calibration and testing.