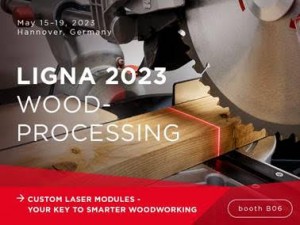 At LIGNA 2023, Laser Components will be presenting laser modules that are specifically suited for use in wood processing. At Booth B06 in Hall 15, the company will be focusing on lasers for machine vision and positioning and marking tasks. LIGNA is considered the world's leading trade fair for wood processing and will be held in Hanover from May 15 to 19, 2023.
Positioning lasers ensure precise cutting and drilling in the wood industry. The dust-proof housings of the ILM12F and HD FLEXPOINT® series from Laser Components offer a crucial advantage, especially in the demanding working environment of this industry . The green (520nm) and red (635nm) laser light options are eye safe according to laser classes 1 and 2. The ILM12F module offers a special advantage with its integrated M12 thread for fast and secure mounting.
The FLEXPOINT® MV series was developed by Laser Components for use in machine vision. The product features of the modules are designed to provide reliable results even in real-time high-resolution image processing. This allows significant increases in efficiency in sawmills and in the inspection of finished furniture parts. MV modules in various sizes and performance classes will be presented at LIGNA.
"LIGNA is one of the most important trade shows for the wood processing industry and provides us with an ideal platform to tap into this important market for our laser modules," said Jochen Maier, head of the optosystems business unit at LASER COMPONENTS. "We look forward to engaging in dialogue with visitors to the show and offering them customised solutions that increase their productivity and efficiency."
Further information Laser Modules (lasercomponents.com)