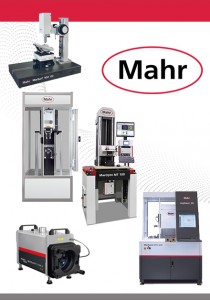 Mahr Inc., a provider of dimensional metrology solutions, will highlight its line of optical manufactu ring measurement solutions in booth #1221 at SPIE Optifab 2019. With a full range of metrology instruments including precision gages, interferometric work stations, contact and non-contact profilometers, white light and confocal microscopy, and more, Mahr provides the complete solution for optical manufacturing metrology needs. SPIE Optifab will take place from October 15-17, 2019 in Rochester, New York (US).
From basic dimensional metrology to complex form and finish measurements, Mahr provides solutions for measuring planar and spherical; aspheric; freeform; diffractive; and micro-optic elements. Highlighted products include Mahr's AVT 300 M, a customized solution for Radius of Curvature (RoC) and tool offset measurements in single point diamond turning (SPDT) applications, as well as the MarForm MFU 200 3D tactile and optical profilometer for flat, spherical, aspherical and freeform surfaces with direct reference to fiducials and mechanical datums.
The AVT 300 M utilizes a 40mm aperture Fizeau interferometer in conjunction with a motorized, 300mm, vertical stage to allow for automated measurements of spherical or flat components (larger apertures and stages are also available). The solution allows for measurements of RoC and tool offset with an accuracy of <0,5µm and <0,3µm, respectively.
The MarForm MFU 200 aspheric 3D profilometer was developed for rapid 2D and 3D testing of optical components on the shop floor. MarForm measuring machines have been known for decades for their accuracy and stability.
Visit SPIE Optifab booth #1221 to learn more.