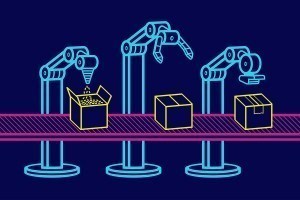 Landing AI, a company that empowers customers to harness the business value of AI by providing enablement tools and transformation programs, and the Association for Advancing Automation (A3), the global advocate for the benefits of automation that represents nearly 1,200 automation companies, today released a report that showcases new findings that relate to the state of AI-based machine vision. The survey covered a range of topics, including the level of adoption, benefits, and challenges of implementing AI-based visual inspection.
The report from Landing AI and A3 found that companies have a high degree of confidence in the effectiveness of AI, with 55% of respondents saying their overall opinion is either high or very high. The survey showed that 26% of respondents have adopted AI-based machine vision while 41% say they plan to in the future. Of those who are using AI, improved accuracy is the top benefit (62%).
While implementing AI, the primary challenge is scarcity of data on which to train AI models, noted 62% of manufacturers. Companies were also concerned about scalability as solutions moved out of pilot programs, with 27% saying they struggled when moving from proof-of-concept to initial deployment.
Additional findings from the Landing AI and A3 report include:
In a heavily automated sector, manual inspection is still playing an important role, with 40% saying their inspection is either completely or mostly manual.
The confidence level of businesses regarding AI effectiveness is high with 26% saying they are already using AI for visual inspection.
When it comes to using AI, scarcity of data, complexity of integrating AI within existing infrastructure, and the inability to achieve lab results in production are the top three challenges.
Most businesses prefer to have ownership of their AI projects either by developing in-house or by working with a vendor.
For the report, Landing AI and A3 surveyed 110 manufacturing executives, automation engineers, and plant managers. To view the report and learn more about implementing AI for improved visual inspection, please visit https://landing.ai/.