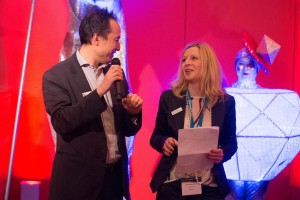 Photonics is one of the most important technologies of the twenty-first century. Together with miniaturisation and automation, two major trends, photonics has a widespread influence on modern life. As a tool, diagnostic instrument or the basis for new communication technologies, light opens up new horizons and markets. At the forefront of new developments are applications.
This is where the focus of Micro Photonics lies, the new trade fair and congress that gives users and developers from numerous branches of the industry a platform for exchanging their views on the latest trends and for jointly creating innovative technical solutions. A preview event has just concluded on the Berlin Exhibition Grounds, and the new trade fair and congress will debut in October 2016 in Berlin.
Microphotonics covers a variety of disciplines, which is why Micro Photonics, the new trade fair and congress, focuses on different areas of use, such as biophotonics, integrated optics and micro-material processing. Spectroscopy, microscopy, manufacturers of scientific apparatus, medical systems and healthcare are just some of the sectors represented at this new event. The event will be welcoming experts from around the world from industry, research and science.
Focus on biophotonics
Biophotonics was one of the key topics of the two-day preview event. Biophotonics is both an emerging, interdisciplinary field of research and a market on the rise. Moreover, biophotonics techniques and methods are of paramount importance for the future health and well-being of society. A necessary prerequisite for successful exploitation of the full potential biophotonics offers is a close collaboration between scientists, companies and endusers. This reflects itself in the way the Micro Photonics has been designed as it will be held in 2016 for the first time. The 2015 edition of the Micro Photonics, which took place as a prelude to the congress 2016, allowed a first insight into this new conference format.
At the preview event there were also discussions on topics such as micro-material processing, sensor technology and optical analysis, and an assessment will take place as to their inclusion in the future fair's program of events.
Networking provides a link between conference and marketplace
Besides offering a program of congress events, this preview event was a marketplace with opportunities for networking, where companies and institutes were presenting their latest research findings, projects, products and systems. Parallel with the micro photonics preview event, the first Biophotonics Symposium, organized by the European Photonics Industry Consortium (EPIC), a partner of Micro Photonics, took place in adjacent rooms.
An ideal business location for optical technologies
Optical technology companies have long been established in Berlin. Currently, around 400 technology enterprises with an average annual turnover increase of 7% represent a growth-oriented cluster in the capital of Germany and its surrounding region. Their standing is enhanced by highly innovative scientific institutions, including 10 universities and 26 other research centers.
Photonics — a growth industry
The latest statistics for the photonics industry are impressive. According to Marktforschung Photonik, the working group researching the photonics market, of which the industry associations SPECTARIS, VDMA and ZVEI are members, in 2014 photonics production grew by 4%. For the first time, turnover reached 30 billion Euros. If one were to include the figures for photovoltaics and the manufacture of communication devices and displays then growth would be even higher. This is further proof that, in line with the global trend, the photonics industry is growing significantly faster than the global economy. In fact, in 2020 the world market is forecast to achieve a turnover of 615 billion Euros. In 2011 the corresponding figure was 350 billion Euros.
First Micro Photonics from 11–13 October 2016 in Berlin
The first edition of Micro Photonics will take place from 11–13 October 2016 at Berlin ExpoCenter City, after which this three-day trade fair and conference will take place annually. The focus of the event is on the international congress.