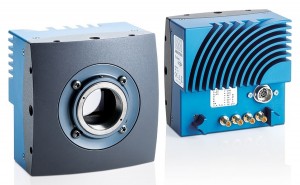 Mikrotron has expanded its EoSens® Creation line of user-programmable cameras by introducing the model 2.0CCX12-CMD2 featuring the CoaXPress-12 (CXP12) interface. This camera, along with Mikrotron's full portfolio of machine vision cameras and accessories, will be on display at the Automatica trade fair in Munich, Germany, in booth B5.206, June 27-30, 2023.
The EoSens® Creation 2.0CCX12-CMD2 can be used as a standard machine vision camera, but its full potential unfolds with the option of application-specific internal processing at 50 Gbit/s. About 70% of its powerful, fast Xilinx FPGA is available for custom applications, a benefit that is enhanced by the camera's 2000MB of internal SDRAM. With custom applications, the FPGA can perform image pre-processing as well as complete processing in real-time and deliver only the user-programmed, finished results with virtually no bandwidth limitations placed on it by the interface. To simplify programming, the API has blocks clearly separating the FPGA between camera logic and application IP.
Equipped with a 2MB Luxima CMOS 4/3" color sensor featuring a high-speed global shutter, the EoSens® Creation 2.0CCX12-CMD2 can transmit 2247 frames-per-second (FPS) at its full 1920 x 1080 pixel resolution, making it the ideal inspection tool for semiconductors, logistics, robotics, food, and automotive manufacturing. Compared to rolling shutter cameras, the 2.0CCX12-CMD2's global shutter exposes and reads out all pixels simultaneously during the evaluation of fast moving objects, resulting in sharper images.
The camera also has an optional fan and can be equipped with a development kit that enables field-ready FPGA firmware programming via a JTAG interface.