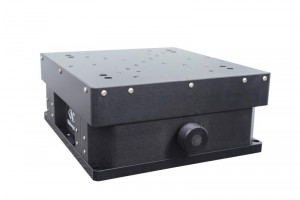 MKS Instruments has released the Newport IDL280-Z20 vertical stage for industrial applications that require high load capacities. Based on a modular wedge design, the IDL280-Z20 provides a minimum incremental motion (MIM) of 0.1 µm over 20 mm of travel with smooth motion for fine positioning. A precision ball screw drive with 2-mm pitch is able to move loads up to 500 N with a speed of 5 mm/s.
Thanks to its high stiffness, 10 µrad/N-m, the Newport vertical industrial stage is suitable for advanced XY systems with high dynamic performance.
Like all IDL stages, the IDL280-Z20 is compatible with the Newport XPS controller but can also be combined with other third-party industrial motion controllers. Upon request, Newport is able to provide custom-designed IDL280-Z vertical stages in other travels or sizes to meet the specifications and requirements of individual applications.