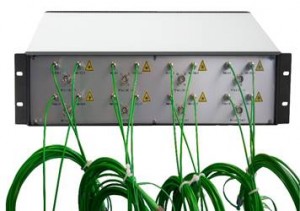 Laser Components is supplying the ModBox-CBC-1064nm, which is a proven and robust multi-channel phase modulation solution for multibeam coherent combination.
The ModBox operates at 1064nm and is composed of 4 or 8 parallel and independent channels for adjusting the phase of each to match the others. Each channel allows an adjustment of the temporal phase for synchronisation of all beams. The design integrates iXblue's proprietary low frequency phase modulator combined with its matching RF electronics selected for high accuracy and for wide delay range tunable optical delay line.
The electro-optical modulators are screened to ensure very low insertion loss, high polarisation extinction ratio, low residual amplitude modulation, and high phase modulation stability.
The component selection makes the ModBox-CBC-1064nm an accurate, adjustable, and reliable phase-lock modulation solution idea for coherent beam combining techniques.
The ModBox-CBC-1064nm can be combined with the spectral broadening unit ModBox-SB-1064nm based on high frequency phase modulation to counter the SBS effects caused by the amplification of a narrow linewidth laser source.