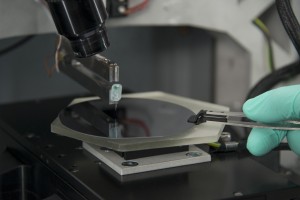 Hummink is a Paris-based nano-printing specialist whose technology does not rely on UV or chemical reactions, so ink can be deposited on almost any surface. This allows the company to serve different markets that need to design large objects with small feature size including advanced packaging, micro-LEDs and advanced photonics.
Antonio Castelo, EPIC's Photonics Technologies Program Manager, had the chance to sit down with Amin M'Barki, CEO of Hummink, to learn about his background and the future of nano-printing for additive manufacturing.
Amin graduated with a BSc in Engineering from the National Institute of Applied Science and Technology in Tunisia. The course involved a six-month internship at Pierre and Marie Curie University in Paris, where he worked on the synthesis and characterization of mesoporous silica by sol-gel process using carbohydrates as templates. He then studied an MSc in Physical Chemistry at Pierre and Marie Curie University, and from 2014-2018, an industrial PhD in Material Science from Claude Bernard University, Lyon.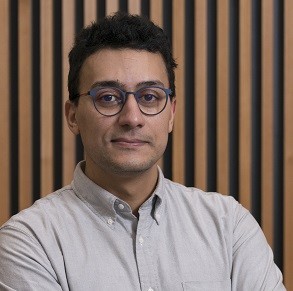 He conducted his research at Saint-Gobain, a research company in Provence involved in the development of products and processes for various materials with a particular focus on ceramics. He started working on the rheological properties of ceramic inks for 3D printing and the mechanical properties of complex ceramic structures.
Having become fascinated with 3D printing and the boundless opportunities for additive manufacturing, in 2018, after his PhD, Amin returned to Paris to work as a post doc Research Valorisation Engineer at the Micromégas Team from Ecole Normale Supérieure and Institut Pierre Gilles de Gennes in Paris. Amin considers himself lucky to have joined this team as not only was he able to work on a growing 3D printing project, but he did also so in an environment and under the direction of Lydéric Bocquet, who saw the transfer of innovation from the lab to industry as a major priority. The focus was on creating spin-offs and Amin spent most of his time developing techniques for scaling up and writing patents.
Hummink
One such patent was for an innovative solution that allowed additive printing of different suspensions from a modified AFM (atomic force microscopy). This versatile new nano-scale 3D printing technology had enormous market potential and in 2018, after the technology had been patented, Amin and his colleague, Pascal Boncenne, began planning the creation of a spin-off to commercialize the technology. As Amin had no experience about running a company, he attended a training course on setting up and running start-ups, which involved discussing his business plan, learning legal and business jargon, and acquiring the basic knowledge and skills required to become an entrepreneur. After securing seed funding from the French government and a VC and making adjustments to the technology to make it suitable for additive manufacturing, Hummink was created in July 2020 with Amin as CEO and Pascal as COO.
The idea was to commercialize a novel nano printing technology that combines a nanometric "pen" with an oscillating macroresonator to perform direct deposition of any ink, on any substrate. Incorporated into a compact tabletop device, the pen, marketed as the smallest fountain pen in the world, automatically adapts to the topography of the sample and is capable of printing patterns in one step with unprecedented resolution and precision. The fact that it can be used with any ink on any material brings freedom of design to the semiconductor and the printed electronics industry and opens a wide range of possibilities for faster and smaller assembling for innovative electronics products.
Company development
Located at the IPGG incubator (PC'Up) Hummink has access to the university's facilities, including a clean room and platform equipment. Although access to these facilities has been crucial for the company's development, a major challenge has been the need to change the mindset of working in a research lab to a more focussed business approach and the need to identify specific use cases and define target markets. A second issue has been building the team. For the first two years the only full-time employees were Amin and Pascal, although they had access to experienced consultants like Christophe Bureau, who knew the semiconductor industry, and were in close contact with the inventors of the technology who were still at the IPGG. Fortunately, they have been able to recruit the people with the required skills and now have a workforce of 5 with continued access to consultants.
Over the past two years, the priority has been to develop the company's first product and promote the technology to R&D labs and companies involved in semiconductors in Europe. They have also collaborations, among others, with the CEA Leti, the French Space Agency (CNES) which has enabled them to partner with other labs and start-ups across Europe. Currently, their desktop machines are made in Europe and the materials that have generated the most interest are silver, copper and gold as these are required for conductive lines for printed electronics, although they are also working on different variations of these materials and on different types of polymers, for instance, for photonics applications.
The future
Amin's ambition is for their technology is to become a production tool and to transform additive manufacturing from prototyping to production. He believes this is achievable because although there might be alternative technologies for certain applications, Hummink's technology is truly unique and bring unprecedented possibilities to the semiconductor industry. As Hummink's technology does not rely on UV or chemical reactions, customers can use any ink on any substrate – an attractive feature for the booming nano electronics market and the trend towards submicronic resolutions.
Another potential growth market is photonics, and for this reason they have joined EPIC, not only to increase visibility but also to explore new market opportunities by offering their technology as a possible solution for technical problems in the field of photonics. These include packaging, i.e., the need to create interconnections between components on increasingly complex samples; the design of complex patterns with unprecedented precision for MicroLEDs; and the design of waveguides and gratings with high refractive index materials.
The company is commercializing its first product, and the main challenge for the future is how to scale up. At a technical level, they will need to convince customers of the feasibility of their technology as a production tool for rapid, precision manufacturing. Having found the application most conducive to successful growth, the next issue will be funding as scaling up for some applications, like advanced packaging, is costly. For this reason, they made the choice very early on to have VC backing. This was partly to have access to funding in the early stages when deep-tech does not generate much revenue, but more importantly to have access to capital to cover the growth phase.
If you started again, what would you do differently?
"I would spend a little bit more time in the lab looking for a good market fit and how the technology could be used in other applications because we spent a little bit of time initially finding the right orientation. In the first few months, we focused on silver, copper and gold, but there were many other materials around like DNA, proteins and collagen etc. If I started again, I'd spend maybe six more months in the lab working on these other materials. I would probably come up with the same conclusion, but I'd have a better idea of the exact direction we should go in and maybe be able to raise a little bit more initial capital"
What's your advice for the next generation of entrepreneurs?
"First, if you're interested, you should definitely create a start-up: identify the ecosystem, go to lots of conferences, webinars and events where you can ask people for advice, and surround yourself with the right people who can help you.
Second, a start-up is completely different from working in a big company, which is a little bit more comfortable. A start-up involves a lot of personal commitments and is much harder work - although my experience with the Hummink has helped me grow both personally and professionally.
Third, creating a start-up is life changing at a personal level. You'll probably start by thinking about your company day and night but remember there's other stuff in life and it's important to find the time to take care of it."
Written by Antonio Castelo, Program Manager, EPIC's Photonic Technologies