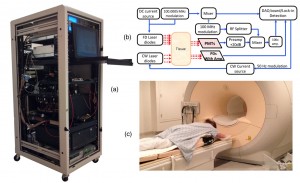 Taking a ground-breaking approach to diagnostic imaging, engineers and radiologists at the Geisel School of Medicine at Dartmouth College, Hanover, New Hampshire (US), have developed a new way to implement MRI/near-infrared spectroscopy (NIRS) technique that could be an option for women with dense breasts, which are harder to penetrate with traditional imaging equipment.
Combined NIRS and MRI is an emerging imaging approach that could benefit patients with an abnormal previous breast screening by increasing the specificity of a dynamic contrast-enhanced MRI (DCE-MRI) before a biopsy. "The technique can be used to noninvasively quantify oxy- and deoxy-hemoglobin, water and lipid content, and scattering parameters in adipose and fibroglandular tissues," says study author Michael A. Mastanduno. The NIRS interface was designed to accommodate multiple breast sizes and composition, while also providing optical coverage of the entire region of interest. Mastanduno adds that another goal was to minimise geometrical distortions of the breast being scanned and preserve the shape of the contralateral breast to maintain MR image quality. "The interface is based on a triangular arrangement of optical fibres with six degrees of freedom for adjustment. We demonstrate that robust fibre contact occurs with breasts of all cup sizes during simultaneous MR and NIRS breast examinations involving healthy volunteers and cancer patients, using a typical V-shaped clinical breast coil."
The light technology itself, intensity modulated laser diodes, is not new. Rather, the implementation is unique, according Mastanduno. While in the past MRI/NIRS imaging was only possible in C-and D-cup-sized breasts, the study illustrates the design and clinical testing of an MRI breast coil for combined MRI/NIRS on subjects of all bra cup sizes and mammographic density categories. Biomedical engineers from the Dartmouth's Thayer School of Engineering have designed a set of eight light-transmitting cables that can be adjusted to surround the breast with light tension. The procedure is nearly identical to clinical MRI. Another advance is that this system gives researchers the ability to target lesions in hard-to-reach areas close to the chest wall. "With the successful completion of this study, simultaneous MRI/NIRS is possible in all breast sizes, tissue compositions and lesion locations," Mastanduno says.
Dartmouth's research work could have an impact on other diagnostic imaging techniques, too. "A similar technique to this could be implemented with any established clinical imaging modality," Mastanduno says, adding that Dartmouth as well as the University of Connecticut are already developing techniques that combine NIRS with tomosynthesis and ultrasound, though the researchers are still debating the most effective implementation.
Dartmouth's novel MRI/NIRS technique could be implemented in real-world clinical settings in the next five to 10 years. "The design needs to be redone so that the interface is less cumbersome and integrates more effectively with clinical MRI," says Mastanduno, pinning his hope on an "industrial-academic partnership" to "help expedite this development." For now, his team is working on redesigning the system to be more flexible, cheaper and more effective in clinical implementation.
The study is detailed in the article "Adaptable Near-Infrared Spectroscopy Fiber Array for Improved Coupling to Different Breast Sizes During Clinical MRI," published in Academic Radiology.
Image: a) Dartmouth's MRI/near-infrared spectroscopy hybrid system; b) system diagram; c) volunteer being imaged using the system.