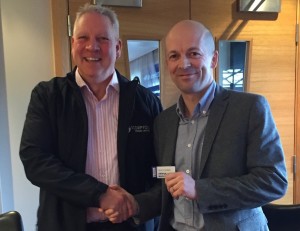 Allan Anderson has been confirmed as the new chairman of UKIVA (UK Industrial Vision Association) at the recent Annual Members' Meeting.
Anderson, managing director of ClearView Imaging, previously held the position of vice-chairman of UKIVA and now takes the chair for the next two years. At the same meeting, Neil Sandhu from Sick (UK) was elected to the position of vice-chairman.
During his time as vice-chairman, Anderson has been pro-active in the creation of the UKIVA Machine Vision Conference and Exhibition (MVC).
Anderson also paid tribute to outgoing chair, Paul Wilson, who has just completed his four-year cycle as vice-chair and chair.
New UKIVA vice-chair, Neil Sandhu, is national product manager — imaging, measurement, ranging and systems at Sick (UK). Sandhu is a member of the UKIVA committee.