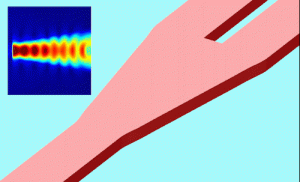 At Photonics West last week in San Francisco, Califormia (US) Lumerical announced the culmination of their inaugural Photonic Inverse Design Challenge and the immediate start of their next design competition.
Throughout the exhibition, photonic designers participated by simply specifying via mobile device the design targets and constraints for a 3 dB power splitter design workflow. These parameters drove a Photonic Inverse Design optimization using the Lumerical FDTD photonic simulator running on Amazon Web Services (AWS). All participants were provided their resultant layout file by email along with their simulation results and design files for their future use. During the conference, over 70 photonic designers submitted their designs. The top designs were chosen for fabrication at University of British Columbia's SiEPIC fab.
Competitor Farnood Rezaie, Senior Staff Engineer at TowerJazz said, "It was amazingly simple to submit my design. In under a half hour, I received notice from Lumerical that my design was already complete. I'll be able to use the design files that Lumerical sent me to execute Photonic Inverse Design back home targeted to my specific designs."
University of Maryland graduate student Sabyasachi Barik generated the best design at the Photonic Inverse Design Challenge at Photonics West, with a score of 18,765. Barik said, "The competition was intense, with the leader board constantly changing, but I studied the parameters and in the end my design topped the leaderboard. I look forward to participating again at the next event."
Lumerical announced their next design event starting immediately. OFC Lab Automation Hackathon and Lumerical are co-hosting the device simulation challenge. Contestants will compete to design the best optimized 4-channel O-band CWDM using Lumerical's Python-based Automation API along with their FDTD, MODE and INTERCONNECT products. Competition instructions, event details, and registration are available at http://lumeri.ca/ofc20/.
The challenge is open to all design teams and all kinds of design techniques, including Photonic Inverse Design. The best entries will be recognized at the OFC Lab Automation Hackathon event on March 8th, 2020 in San Diego. (See: www.ofcconference.org/en-us/ho...utomation-hackathon/)
Contest host Adam Reid, VP of Engineering of Lumerical said, "The response from the photonic design community to our design event at Photonics West was overwhelming. We have never had a conference booth so consistently packed with customers. They really kept us on our toes! We are proud to continue the engagement by co-hosting the OFC Hackathon Device Challenge. This challenge is a bit more intensive and is team oriented, so contestants will have one month to complete their designs. I'm looking forward to seeing which design techniques end up on top."
Binbin Guan, PIC Optical Engineer of Acacia Communications said, "We've always focused our hackathon on open source Python. As Lumerical's Photonic Inverse Design is based on their Python interface, it is a natural for our hackathon. We look forward to co-hosting the competition with Lumerical."
The challenge focuses on designing an optimized 4-Ch CWDM for O-band, targeting a generic 220nm SOI process compatible with standard photolithography. Designs are evaluated by simulated transmission and crosstalk and by total footprint. A manufacturability bonus is awarded for designs meeting the minimum feature size for the target process and demonstrating robustness to process variation. Final simulations of the designs will be performed using Lumerical solvers, which Lumerical will provide to registered participants for use during the event period.
Up to three top designs will be determined based on simulated device performance and judges' recommendations, including
1. Best overall performance (transmission, isolation, & manufacturability)
2. Top university entry
3. Most creative design
Pure play Indium Phosphide foundry SMART Photonics will award space on their upcoming multi-project wafer (MPW) to the team with the best overall performance. SMART Photonics Director of Commercial Development Geert Appeldoorn said, "To celebrate our increased capacity for prototyping, and increased number of MPW runs, we are proud to fabricate a design of choice from the winning group and to provide them with multiple dice at no cost."
A limited number of entries will be selected for fabrication at University of British Columbia's SiEPIC fab.