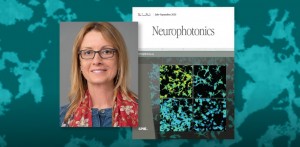 On 1 January, 2021, Anna Devor, an associate professor of bioengineering at Boston University (BU), will become the new editor-in-chief of Neurophotonics.
She succeeds the journal's founding editor-in-chief, David A. Boas, who has served in that role since 2014. Neurophotonics is one of 12 journals published by SPIE, the international society for optics and photonics, in the SPIE Digital Library.
A frequent presenter at SPIE conferences, Devor has served as a Neurophotonics editorial-board member since its launch.
"I am excited to carry on the mission of Neurophotonics to facilitate the continuous development, evolution, and broadest possible application of impactful photonics technologies in neuroscience," says Devor. "I am looking forward to publishing the best science, promoting the interdisciplinary and inclusive neurophotonics community, providing a platform for sharing and dissemination of technologies and data, offering an educational resource for neurophotonics students, and building awareness of the growing field of neuroethics."
Neurophotonics is an open-access journal covering advances in optical technology applicable to the study of the brain as well as their impact on basic and clinical neuroscience applications.
Devor joined BU in the fall of 2019. Prior to coming to BU, she directed the Neurovascular Imaging Laboratory at University of California, San Diego. She is a world leader in the field of neuroimaging, neurovascular coupling, and regulation of cerebral blood flow, and has a broad background in cellular and systems-level neuroscience and microscopy. An AIMBE Fellow and recipient of three BRAIN Initiative awards and multiple teaching awards, Devor is a sought-after speaker, teacher, and participant of summer schools and short courses in neuroimaging. She is also an avid promoter and supporter of fellow women scientists.