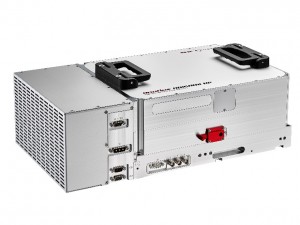 The new ORIGAMI 10XP version 5.0 from NKT Photonics is available as a 4 W laser with a 40 µJ maximum pulse energy, while the ORIGAMI XPS delivers a higher 5 W power and maximum pulse energy of 70 µJ. The excellent pulse quality lets you make precise cuts or marks with little, to no, parasitic thermal effects.
The ORIGAMI XPv5.0 has a typical pulse width of <370 fs. If you need more peak power flexibility for process optimization, go for the pulse width control option that lets you tune the pulse width from <370 fs to 5 ps.
The stability of the average power is kept to <1% (RMS) over 100 hours, thanks to the closed-loop power control. Together with additional sensors to monitor the relative peak power, the user can now optimize a variety of material processing conditions and ensure high repeatability.
The ORIGAMI XP v5.0 is now equipped with the standard NKT Photonics bus interface, unique to all NKT Photonics laser products. Together with the NKT Photonics CONTROL graphical user interface, you can now operate the ORIGAMI XP simply and intuitively.
The ORIGAMI XP v5.0 is equipped with internal sensors to monitor and log critical operational laser parameters. This means that you, during operation, can get a comprehensive understanding of the health of the laser and conduct any pro-active diagnostic checks at any time.