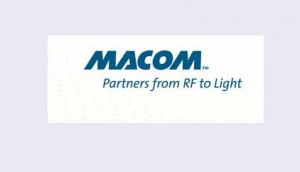 MACOM Technology Solutions Inc. announced the MALD-37030 and MALD-37031, an integrated laser driver solutions.
With the growing demand for data, wireless, enterprise and data center OEMs are continually looking for ways to drive lower power, smaller size and lower costs. MACOM's integrated laser driver minimizes power consumption and reduces need forexternal components, providing customers with design flexibility and board space savings ideal for SFP28 Long-Reach (LR) optical module designs in next generation 5G wireless, enterprise and storage networks applications.
These devices have an integrated direct modulated laser (DML) driver, limiting amplifier, dual CDRs, power management functionality, and digital diagnostics monitoring. Specifically designed for SFP28 optical modules, the MALD-37030 is intended for wireless 24G CPRI and 25G Ethernet data communication applications, while the MALD-37031 is ideally suited for 28Gbps Fiber Channel Storage Networks.
The transmit channel includes a CTLE with adaptive/programmable equalization and a flexible output driver to directly drive DML lasers in TO-Cans or in hybrid packages. An internal buck-boost converter tracks the laser forward voltage and automatically generates laser anode voltages to optimize power dissipation and maintain eye quality. The integrated DML driver offer the industry's first 28G Dual Closed Loop (DCL) operation. This operating mode only requires calibration at room temperature then the extinction ratio (ER) and average optical power are automatically controlled across operating temperatures.
The receive channel includes a high-sensitivity limiting amplifier with programmable slice level adjustment and an output driver with programmable output swing. The CDRs in the transmit and receive channels are reference-free and can be programmed to support half rate as well as bypassed to support legacy or non-standard data rates. The devices have Integrated PRBS Generator and Checker and bidirectional loop back for system diagnostics
Paired with the MACOM best-in-class low power single channel TIA, M03002, and high-performance 131D-25G-LT5TC 25G DFB laser in TO-56 package, MACOM provides the most integrated and high-performance SFP28 LR chipset solution available today.
The MALD-37030/31 products are available in a cost effective 5x6mm LGA (Land Grid Array) package and support industrial temperature operation. A demonstration of MACOM's SFP28 LR chipset will be on display by appointment at OFC in MACOM's booth, #1736, March 21st-23rd in Los Angeles, CA. The demonstration includes MACOM's 28Gbps DML driver, TIA packaged in ROSA and DFB laser packaged in TOSA for a complete chipset solutions.