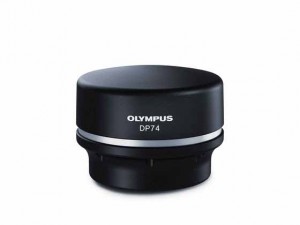 The new Olympus DP74 color fluorescence microscope camera combines advanced image processing technology, a low-noise design and easy-to-use software to deliver smooth, true-to-life images in demanding life science and industrial applications.
Optimized for fluorescence color imaging, the DP74 microscope camera enables users to capture publication-quality images of even fast-moving specimens with features including:
High frame rate: a frame rate of up to 60 frames per second (fps) minimizes jitter to provide smooth images of specimens, even if the specimen or stage are moving
High definition: images are delivered with a resolution of up to 1200p for outstanding sharpness
Fine detail at low magnification: color imaging up to 20.7 million pixels for high-resolution images
Know your location on the sample: when imaging under high magnification, the position navigator enables users to see where they are on the overall sample slide
Accurate color reproduction: a leading-edge CMOS image sensor, low-noise design, 3CMOS software mode and advanced image processing capture fine color detail for better color resolution
Integrates with Olympus imaging software: camera seamlessly integrates with and can be controlled by the soon to be released OLYMPUS Stream
2.2 and cellSens 1.16 imaging software
The features of the DP74 microscope camera and intuitive workflow enhancements make it easy to capture realistic, high-quality images. The 60 fps frame rate helps make images smooth. Users can observe the natural motion of live specimens and fixed specimens can be scanned across the field of view as fast as the eye can see. For comprehensive reporting and record keeping, the position navigator keeps track of a user's location on the slide and can generate a low-magnification map of the sample containing all of the location information that can be stored with high-magnification observation images.
The DP74 camera offers one of the widest fields of view currently available with a wide 16:10 aspect ratio, so users can find areas of interest more quickly. For users that need to create larger macro images, the wide field of view helps make tiling faster. Combined with the fast frame rate and a shading correction feature, the DP74 microscope camera produces beautiful macro images with fewer seams.
The DP74 microscope camera is the ideal choice for capturing vivid fluorescence images. The cooled CMOS sensor helps make fluorescence images clear and bright. Multi-frame noise reduction (FNR) reduces signal noise so users can capture sharp images, even with a weak signal. Cameras equipped with super fluorescence mode automatically set the optimal exposure time to capture high-contrast fluorescence images.
Olympus Corporation is an international precision technology leader operating in industrial, medical, academic, and consumer markets, specializing in optics, electronics, and precision engineering. The Olympus Corporation of the Americas Scientific Solutions Group's core product lineup comprises clinical, educational, and research microscopes, nondestructive testing equipment, and analytical instruments, all designed with an unwavering commitment to enhancing people's lives every day and contributing to the safety, security, quality, and productivity of society.