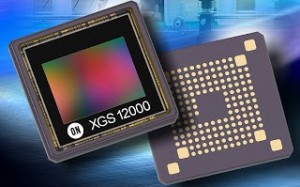 The XGS 12000 and XGS 8000 devices in the new X-Class CMOS image sensor platform from ON Semiconductor provide 12.6 megapixel and 8.8 megapixel (4k UHD) global shutter imaging for machine vision, ITS and broadcast applications. All ON Semiconductor image sensors and accessories are available from the global imaging expert Framos.
The 1" optical format XGS 12000 and the 1/1.1" optical format XGS 8000 enable compact 29 x 29 mm² camera designs due to their small package size and low thermal profile. These devices provide image quality with high quantum efficiency, broad dynamic range and low dark noise and dark current. A single camera design can support these first members of the X-Class image sensor platform. In addition, other resolutions based on the 3.2 µm XGS pixel — and, additional X-Class products using different pixels — can be supported in the future.
The XGS 12000 offers high-speed frame rates at 12-bit and up to 90fps at full resolution with a configurable HiSPi output covering three speed grades (24, 12 or 6 lanes). The XGS 8000 achieves up to 130 fps at the same pixel depth. A companding mode at either 30 fps with 6 lanes or 60fps with 12 lanes is available for full resolution in the XGS 12000. Higher frame rates and more efficient image capture can be achieved with programmable control, for up to eight regions of interest (ROI).
The XGS 12000 and XGS 8000 leverage the low power X-Class output architecture, enabling energy-efficient designs.