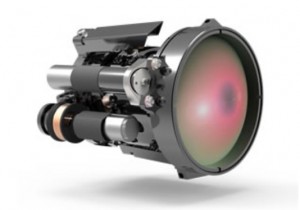 MKS Instruments, a global provider of technologies that enable advanced processes and improve productivity, has introduced the Ophir LightIR compact, continuous zoom lens.
LightIR is a lightweight, infrared (IR) thermal imaging lens for cooled detectors in commercial applications, including drones and unmanned aerial vehicles (UAV), marine and handheld devices.
LightIR is a compact, high-performance, F/5.5 zoom lens with a focal length of 20–275 mm. At 264 g, it is the smallest, lightest weight, continuous zoom lens on the market, according to its maker. It maintains a very high zoom ratio over the entire zoom range. A single board controller provides a micro switch option to select between RS485 and RS232 communications.
The lens is designed for stabilized payloads in a variety of drone, UAV and handheld devices for commercial applications.
Availability
The LightIR thermal imaging lens is available for order now with delivery starting in Q3 2017.