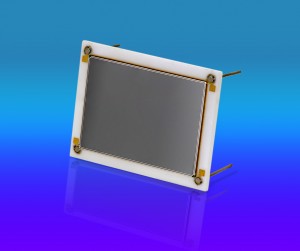 Opto Diode Corporation, an ITW company, introduces the AXUV300C photodiode with a large 331 mm2 rectangular active area. The new device is part of Opto Diode's AXUV detector family that features high-performance detection of photons, electrons, and radiation.
The detector package includes 2 anode and 2 cathode pins, which allows for more versatile connections. There is no window to allow detection of energy shorter than 200 nm. Other features include a response time of 15 microseconds. The large active area device features electron detection as low as 200 eV. To view the responsivity graphs for the AXUV300C photodiodes, please go to Opto Diode's data sheet here: https://optodiode.com/pdf/AXUV300CDS.pdf.
Storage and operating temperatures range from -10 °C to +40 °C (ambient) and from -20 °C to +80 °C in nitrogen or vacuum environments. The lead soldering temperature is 260 °C.
Learn more about Opto Diode's AXUV family of detectors for measuring photons, electrons, or X-rays (from 0.0124 nm to 190 nm) that detect energy from 100eV to 50keV with remarkable 100% quantum efficiency.