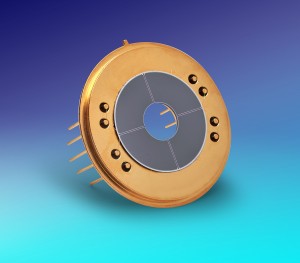 Opto Diode Corporation, an ITW company, introduces a high-performance quad electron detector, the AXUVPS7, with a total circular active area of 146 mm² (active area per element is 36.5 mm²). The new device joins the AXUV family of advanced technology sensors that are designed to detect electron energy levels from 100 eV to 50 KeV.
The quad electron detector features a hole in the center of the quad array to enable users to easily measure reflected electrons. Other features include a response time of 200 ns, shunt resistance (RsH) of 10 MOhms (min.), and reverse breakdown voltage of 5 V. The capacitance is 2 nF (typ.).
Storage and operating temperature ranges under ambient conditions are from -10° C to 40° C; in a nitrogen or vacuum environment, the temperatures range from -20° C to 80 ° C.
The AXUVPS7 electron detector has a lead soldering temperature of 260° C.
To download the data sheet with typical electron response and EUV-UV photon response charts, plus typical UV-VIS-NIR photon responsivity, capacitance vs. voltage, and dark current vs. voltage graphs, please go to: https://optodiode.com/pdf/AXUVPS7.pdf.
To access DigiKey's digital catalog and view the AXUVPS7 part for online purchase, go here: https://www.digikey.com/en/products/detail/opto-diode-corp/AXUVPS7/3782857?s=N4IgTCBcDaIIIA0CqA1ACgZQOwgLoF8g&vendor=0.