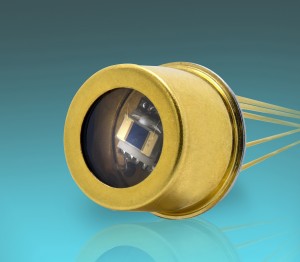 Opto Diode Corporation, an ITW company, introduces a high-performance, two-stage, cooled, lead selenide (PbSe) detector that operates in the mid-infrared (IR) spectral region with peak sensitivity between 4.3 and 4.5 µm. The cooler on the BXT2S-28T allows the detector element to operate as low as -45 °C to maximize detectivity (D*). The device also features excellent responsivity of 7.5 x 104 V/W (typical). The exceptionally reliable detector provides the highest sensitivity when monitoring small changes in gas mixtures.
Real-time measurements are easily supported with BXT2S-28T's fast response time. The cooled unit delivers additional sensitivity for very low-level signal detection and enhanced stability for harsh environments where temperatures are in constant flux. It offers consistently high performance in gas analysis and monitoring tasks, which are key to vital medical, defense, and industrial applications.
The new mid-IR detector is packaged in a TO8 can with a 4 mm² active area, and a flat sapphire window. Absolute ratings for storage and operating temperatures range from -40 °C to +85 °C.
The data sheet includes typical detector response graphs, signal-to-noise ratios, packaging specifications, and package and Pin Out information.