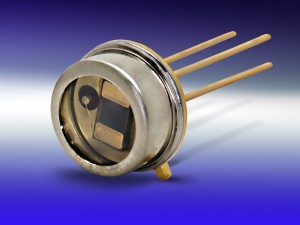 Opto Diode Corporation, an ITW company, introduces a single-channel, uncooled infrared (IR) detector, the BXP-25E. Specially designed for fire and flame detection, the high-performance, lead selenide (PbSe) detector offers peak sensitivity between 3.6 µm and 3.8 µm and is available in a TO5 package with a flat sapphire window.
The new 4 mm2 active area device features responsivity of 7.5 x 103 V/W (minimum), with typical responsivity of 1.5 x 104 V/W. Response time is typically 2 µsec. Detectivity (D*) is typically 2.0 x 1010, and resistance ranges from 0.7 to 2.5 MOhms. Absolute ratings for storage and operating temperatures are -40 °C to +85 °C.
The BXP-25E IR Detector is part of Opto Diode's extensive IR Detectors, B Series family of exceptionally durable, long-life products. The reliable, single-channel detectors are utilized in gas analysis for medical and industrial tasks, emissions monitoring, spectroscopy, thermal imaging, process control systems, and defense/security applications.