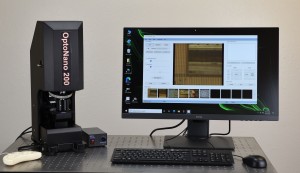 OptoSigma Corporation, part of the Sigma Koki Group, a global manufacturer based in Japan, USA and Europe, and Phaos Technoloogy Pte, Ltd., an innovative company based in Singapore, have entered into a new partnership agreement. The agreement includes the Sigma Koki Group in Japan, under the OptoSigma brand name, manufacturing a new Super Resolution Microscope for distribution and sales throughout North, South America, European and Asia markets, through OptoSigma's website and sales channels.
Within the agreement, Sigma Koki will manufacture an extraordinary new system named, OptoNano 200. It is a super resolution microscope system that incorporates OMN (Optical Microsphere Nanoscopy) technology. The OptoNano has the ability to resolve features down to 137nm in ambient environements without the need to condition the samples. System options include a selection of light sources, cameras, and objective lenses. The systems looks to save tremendous time and resources in comparrison to other known methods on the market today.
All of these systems and related products will be available from OptoSigma's newly enhanced website.