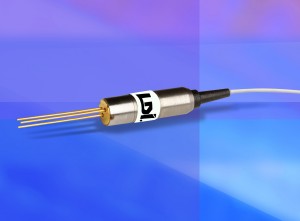 OSI Laser Diode (LDI), a global supplier of advanced optoelectronics components, launches a blue 450-nm pulsed laser diode module that includes an electrostatic discharge (ESD) protection device. Packaged in a convenient, 3-pin coaxial format, the new CVB 450-TO56R is specially designed for demanding metrology applications.
Uniquely provided by OSI Laser Diode, the gallium nitride (GaN) laser diode module is optically coupled to a 200/230/500 µm fiber pigtail, making it ideal for uncooled optical metrology tasks where pulsed optical power is required. Highly efficient, the CVB 450-TO56R is RoHS compliant. The compact, fiber-coupled coaxial package gives high-peak power in a highly flexible format. In combination with the high-resolution CCD, the CVB 450-TO56R offers outstanding metrology resolution.
OSI LDI's new blue laser diode module features peak optical power at 2 watts (minimum), an absolute maximum forward current at 2500 mA, with a threshold current of 300 mA (typical). The center wavelength is 450 nm (typical) with a 440 nm (minimum) and 460 nm (maximum) spectral range. The device has a spectral width (root mean square, or RMS) of 1 nm. Operating temperatures range from -40 °C to 85 °C.
To view specifications and download OSI LDI's new blue laser data sheet, go to: https://www.laserdiode.com/product_pdf/CVB_450-TO56R_Preliminary_Marketing_Datasheet_Rev_IR.pdf.
The proprietary product will premiere in Hall B2, Booth 139 at the 24th Annual LASER World of PHOTONICS in Munich, Germany, June 24 - 27, 2019.