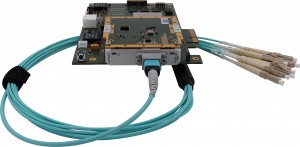 To optimize optical systems qualification, Techway has developed an FPGA board up to four full duplex links at 10 gbps.
Optical communications have become the new standard in the embedded industry with the increasing demand for bandwidth. This demand is driven by new high-resolution sensors and by intercommunications needed among processing units.
To design, qualify and develop new systems based on optical, Techway has designed a ready-to-use solution with the PERSIAN platform.
PERSIAN is a Xilinx Kintex-7 FPGA board that features up to 10 high-speed optical links based on RADIALL D-Lightsys technology.
Thanks to its PCIe Gen2 x4 form factor and its stand-alone capabilities, the PERSIAN board can be operated for three main usages:
Platform to qualify very high-speed links integration
Platform for optical systems qualification
Platform to realize very high-speed "Proof Of Concept"
In summary, PERSIAN is ready-to-go, easy-to-use, convenient solution to qualify optical systems and build test benches.