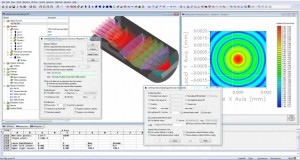 FRED Optical Engineering Software is a general purpose opto-mechanical raytracing and analysis tool used by government, research and industry professionals around the world.
FRED version 20.01 is a major new release containing significant capability enhancements for stray light analysis and diffractive optics.
The Tabular BSDF scatter model uses an improved interpolation algorithm.
Tabular BSDF can now be fit to an Extended-Harvey functional form.
Ray path data filtering in the Raytrace Paths and Stray Light Report has been added to promote efficient searching and identification of stray light paths.
A user-recorded HOE diffraction grating type has been added.