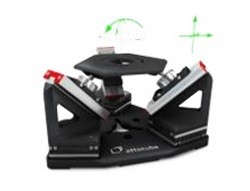 Attocube Systems AG will exhibit its nanotechnology solutions, the Industrial Line nano-positioning units, the Hexacube and the displacement sensor FPS, at Photonex 2014 on 15-16 October at the Ricoh Arena (stand C03) in Coventry, UK.
• The Industrial Line piezo stages are precise positioning units that can be used to position optical or mechanical components in the nanometre space.
• The Hexacube is the company's integrated 6D motion solution: it combines six piezomotors with precision ball joints and linear bearings, offering stiff design, long travel ranges, accuracy and nanometre repeatability.
• The sensor system FPS enables displacement detection and vibration measurements in the sub-nanometre range. Its patented working principle allows the simultaneous detection of position variations of up to three targets. These measurements can be performed at distances up to 1 metre with a tracking velocity of 2 metres per second (m/s).