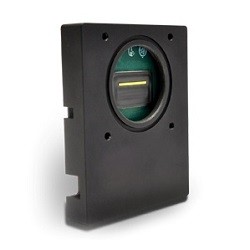 Sensors Unlimited, a UTC Aerospace Systems business, has introduced its fastest 2K pixel shortwave infrared (SWIR) line-scan camera. The GL2048R camera is specifically designed for applications in spectral-domain optical coherence tomography (SD-OCT), making it a suitable component for imaging the retina and choroid, the blood vessel below the retina.
The higher speed of this new SWIR camera allows the entire front of the eye, from the top of the cornea through to the bottom of the lens, to be imaged in, literally, the blink of an eye. Thus, OCT systems that incorporate the GL2048R can be used at the front of the eye to measure corneal thickness, scar tissue and lens dimensions. The camera features one of the smallest linear array pixel pitches for the SWIR wavelength range, according to the company. The resultant imaging width offers the potential to reduce the size of the optical components needed in OCT systems, as well as the overall system size.
The speed of this camera minimises motion blur while capturing the retina's full field of view. Its phase stability enables SD-OCT systems to measure and map the faster blood flows that occur in the larger vessels of the choroid.
Sensors Unlimited will exhibit this camera at Photonics West 2015 (booth 805) on 10-12 February and at BiOS Expo 2015 (booth 8805) on 7-8 February, at the Moscone Center in San Francisco, California (US).