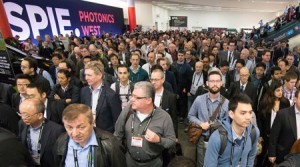 Photonics West 2021 is still planned for March 6 – 11, 2021 in San Francisco. As usual, it will cover a wide range of topics: biomedical optics, biophotonics, industrial lasers, optoelectronics, microfabrication, MOEMS-MEMS, displays, and more. The organizers are working hard to ensure a safe and productive opportunity to meet together. View the 2021 health and safety measures.
In addition, they are planning an online preview a few weeks later than usual, with a series of free webinars taking place January 25 to 28, 2021.
These webinars will address topics such as COVID-19 research, optical coherence tomography, and quantum technologies that will be discussed in detail during Photonics West in March. Hear from invited speakers and key companies during the Photonics West Preview.
Four powerful days
While 2021 is not going to be business as usual, the optics and photonics community continues to seek opportunities to connect, hear advancements, and see product innovations. Therefore,SPIE remains committed to providing opportunities for the community to gather and move important work forward. The following topics will be covered online in the preview days.
Dates

Topics

Monday 25 January

BiOS
Optical coherence tomography, COVID-19 research

Tuesday 26 January

LASE
Intelligent manufacturing

Wednesday 27 January

OPTO
Quantum technologies

Thursday 28 January

The future
What does 2021 and beyond look like?