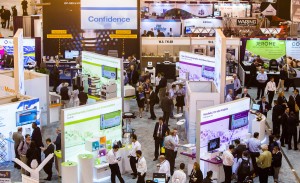 Pittcon 2016, the 67th Conference and Exposition for Analytical Chemistry and Applied Spectroscopy, ended on 10 March, in Atlanta, Georgia US). This global event brought together nearly 13000 conferees and exhibitor personnel. Those who attended Pittcon for the first-time account for 37% of the conferee number. For the fourth year, the co-location of Food Labs Conference, organized by Innovative Publishing and Food Safety Tech, was held in conjunction with Pittcon.
Global attendance
Pittcon had a global presence again this year, with 24% of attendees being from outside the United States; top countries by attendance were Japan, China, Canada, Mexico and the United Kingdom. Attendees include lab managers, scientists, chemists, researchers and professors, from industrial, academic and government labs. They represent an equally broad number of scientific disciplines including life science, food science, drug discovery, environmental, forensics, nanotechnology, water/wastewater, energy/fuel, agriculture and bioterrorism.
Exposition
The exposition floor consisted of 847 exhibitors from 37 countries occupying 1539 booths displaying the latest innovations in instrumentation and technology used in laboratory science. This year, there were 119 first-time exhibitors. There were two specialized areas on the floor — the New Exhibitors and Laboratory Information Management (LIMS).
New this year were the live demos where leading exhibitors presented pre-scheduled interactive presentations of a product, technique or service in two designated areas on the show floor.
Technical program offered educational opportunities
Pittcon offered more than 2000 technical sessions presented in 64 symposia, 14 awards, 86 oral sessions, 24 contributed sessions, 5 workshops and 53 poster sessions. Approximately 40% of the presentations focused on life science topics.
The Wallace H. Coulter Lecture, "How Optical Single-Molecule Detection in Solids Led to Super-Resolution Nanoscopy in Cells and Beyond" was presented by 2014 Nobel Laureate Professor WE Moerner, the Harry S Mosher Professor in Chemistry at Stanford University. The session was attended by a capacity audience followed by a complimentary mixer and poster session.
The 31 Conferee Networking sessions provided an opportunity for conferees from around the world to meet in an informal setting to discuss topics of mutual interest. The facilitator-assisted sessions discuss techniques, solutions to challenges and innovative concepts.
The Short Course program offered an opportunity for skill-building training and continuing education for laboratory professionals at an affordable price. This year, 105 short courses were offered covering topics including analytical methods in environmental, food and life sciences; nanotechnology; water/wastewater; petroleum and pharmaceuticals. Lab management courses are also a significant part of the program and provide critical insight into the interpretation of the requirements of regulatory aspects, global guidelines, and laboratory standards.
The diverse selections, beginning and advanced levels, were attended by 1163 participants.
Employment bureau
Pittcon provides a free onsite employment service for candidates to review active job openings and for employers to review candidates' credentials and resumes. This year, there were 105 employers, 286 positions, 398 candidates and 407 interviews.
Science Week
Each year through Science Week, Pittcon offers outreach and support programs for science education in the city that hosts its annual convention. Six hands-on workshops designed for upper elementary school students and middle school students led students through the exciting process of experimentation and discovery. Teacher workshops supported by school equipment grants were available for elementary, middle and high school teachers in the Atlanta area.
In addition to offering the workshops, Pittcon presented approximately $40000 USD in science equipment grants to schools with educators participating in the teacher workshops. The grants enable the schools to purchase equipment demonstrated in the workshops so teachers can implement the science experiments in their own classrooms, or they can use the grants to purchase other science-related equipment of their choice from select companies.