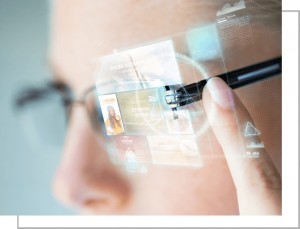 Next week at the Photonics West conference in San Francisco, Pixelligent Technologies will highlight its Low Residual Layer Thickness PixNIL® products for Extended Reality (XR) devices. The combination of breakthrough refractive index (RI) values ranging from 1.8 to 2.0+ and residual layer thicknesses (RLTs) of less than 100nm, provides the superior optical performance required for mainstream adoption of XR devices.
Pixelligent's Director of Applications Engineering, Dr. Peter Guschl, will describe how the unique materials enable XR headsets in a presentation on Jan. 30th at 10:50am PST. His talk is titled "UV-stable high-refractive index nanocomposites for extended reality".
For XR headsets, a higher RI corresponds to a wider field of vision (FOV). FOV is defined as the entire area that a person can see when their eyes are fixed in one position. A wider FOV provides broader peripheral vision and greater safety in XR headsets. The combination of a higher RI and low RLT offers a number of optical benefits in XR devices and provides for an easier index match.
"In the race to mainstream XR devices the winners will be those that deliver superb optical performance, as well as rich functionality in headsets suitable for extended wear," said Pixelligent's President and CEO, Craig Bandes. "As the company that's focused on supercharging the optical innovations with high-performance materials, we're excited to reveal the latest technical details on our PixNIL product at this premier global event."
Pixelligent's PixNIL product and its recently introduced PixJet formulations are available in solvent-containing and solvent-free versions, and cover a broad range of high-refractive indices to match customer requirements. The products can be used to create high-index films with excellent optical performance and robust mechanical properties.
Pixelligent executives will be at Photonics West to discuss the novel materials for XR devices. To schedule a briefing, please contact Alex Everett at aeverett@pixelligent.com.
PixJet®, PixClear® and PixNIL® application notes and product data, along with information about Pixelligent's other market-leading high-index materials are available at www.pixelligent.com.