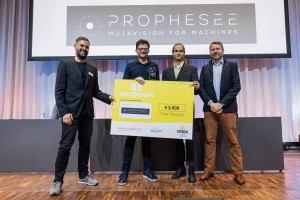 The VISION 2021 prize for technological excellence in the field of machine vision was awarded today to Prophesee for its event-based vision platform.
Prophesee's Metavision platform provides developers of machine vision applications with a complete solution to implement event-based vision in their systems. It is particularly well suited for applications in high-speed quality control, inspection and analytics, but has proven to have unique capabilities in other areas as well, including as an aid to help restore or enhance human vision in people with conditions that impair their sight.
Event-based vision
Event-based vision is a paradigm-shift in imaging addressing the limitations of traditional frame-based cameras. It is based on how the human eye records and interprets visual inputs. The sensors facilitate machine vision by recording changes in the scene rather than recording the entire scene at regular intervals.
Specific advantages over frame-based approaches include better dynamic range (>120dB), reduced data generation (10x-1,000x less than conventional approaches) leading to lower transfer or processing requirements, and higher temporal resolution (microsecond time resolution, i.e. >10k images per second time resolution equivalent). Other advantages are low light imaging, down to 0.08 lx, and power efficiency, with just 3nW per event and 26mW at sensor level.
Runners up
Shortlisted for the award were:
Xposure:Photometry – fast inline 3D surface scanner
LumiScan Object Handling version two and its 3D sensor,
LumiScanX
, Easy pick-and-place for complex objects combining light field
Zeiss AICell Trace, forms the basis for the Zeiss strategy 'Metrology goes inline'.