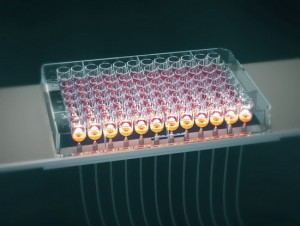 At this year's Photonics West, Schott will present its range of capabilities for use of laser delivery technology in medical applications. High-quality glass fibers, rods, diffusers and connectors, complemented with engineering services help manufacturers of medical devices to deliver laser beams exactly to the point or area where they are needed. The company's booth 1207 can be found in hall B at Photonics West 2018, through 1 February.
Laser technology has contributed excellent work in the medical field, for example in the area of surgery and dermatology (e.g. treatment of pigmentation marks or tattoo removal). Yet delivering accurate laser beams over comparably long or curved distances is still a challenge. Advanced laser delivery systems in particular rely on high-quality light guides.
Depending on the desired effect, Schott's specialty glass components are able to emit the laser light exactly in the required intensity and uniformity — either laterally along distinct parts of a flexible fiber, on a specific point or radially at the end of a fiber, or through an end emitting optical fiber rod. Partner for medical and diagnostics industries
As an ISO 13485 certified supplier, Schott has been supporting the medical and diagnostics industries with a great variety of specialty glass solutions for decades. At Photonics West the company will also be presenting an innovative portfolio of structured glass substrates, which can be delivered with basically any desired structure — likewise increasing the design freedom for diagnostic applications.
In addition, the company's diagnostics portfolio comprises precise lighting solutions that include sensor-monitored LED light sources and flexible fiber optics for analytical devices, in line with substrate materials and coated substrates for microarrays or labs-on-a-chip.