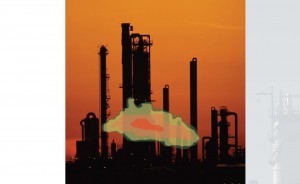 Rebellion Photonics won first place in the Wall Street Journal inaugural Start-Up of the Year competition.
The competition chose 24 startups from more than 500 applications to participate in a 20 week competition. The Entrepreneurs were assessed "on the basis of their firms' scalability, long-term viability, originality and distinctiveness of their products and services, utility, and ability to perform tasks [the competition] set for them."
"Rebellion Photonics is commercializing a 'snap-shot' hyperspectral imaging technology, the Gas Cloud Imaging camera. Initial deployment of their imaging camera will be to the oil and gas industry. Rebellion Photonics was founded in 2009 at the Houston Technology Center and is headquartered in Houston, Texas."
As a client company of the Houston Technology Center, Rebellion Photonics works with Maryanne Maldonado, HTC's Vice President and Managing Director of Energy. As a Houston Technology Center Energy Client, Rebellion Photonics, and its CEO, Allison Sawyer, receives strategic business guidance and direction, as well as the opportunity to meet with energy industry mentors and business advisors.
The Houston Technology Center's acceleration program aids its clients in formulating a compelling business proposition in order to prepare them to generate revenue or raise capital. HTC Clients work with an Acceleration Director who guides them in developing and executing their business strategy to achieve their individual goals. HTC provides introductions to advisors, funders, and customers through networking opportunities and events. HTC Clients graduate with sustainable revenues, a credible team, a validated product and a compelling story. Currently, the Houston Technology Center has 40 acceleration clients, as well as a growing number of incubation clients at its Johnson Space Center location.