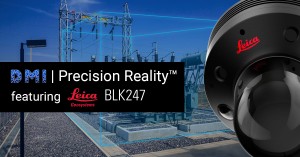 DMI, LLC, a digital transformation company, today announces the release of a remote monitoring solution package on their Precision Reality digital twin platform, featuring the latest in laser scanning technology, the Leica BLK247. This offering expands Precision Reality's robust ecosystem of hardware and software integrations for IoT, 3D visualization, and analytics.
As an exclusive integration partner for Leica, DMI has developed an end-to-end solution with the BLK247 to empower customers to remotely view, track and securely manage valuable assets. DMI offers pre-configured BLK247 hardware, guided installation, software to power real-time email and text alerts, and training and support for all stakeholders. Precision Reality™ users can track activity, volumetric changes, and monitor security within specific geofenced zones. An intelligent rules engine targets anomalies in zones by schedule, size, direction, speed, and can segment safe corridors for normal traffic flow to eliminate false alarms.
Automated monitoring removes human error, saves time spent on video analysis and protects critical assets. The Leica BLK247 is designed to provide continuous monitoring in any environment and capture data in multiple formats including LiDAR, thermal and video. Nathan Greiner, President and CTO of DMI commented on the technology, "Leica, already a market leader in reality capture, has now developed a game-changing persistent laser scanning product that when coupled with our Precision Reality software creates a solution that will transform the asset monitoring industry in the next 18 months."
Recognizing customers' digital transformation journeys move at varying speeds, Precision Reality is framed with scalability, making it easy to add hardware, use cases, and collaborators as needed. Existing and legacy hardware and system data can also be integrated into the centralized platform to provide greater insight into operations.
With a data and device-agnostic system architecture, DMI's Precision Reality platform continues to integrate the latest emerging technologies to accommodate projects of all sizes and hardware stacks in an accelerating IoT market - simplifying the digital transformation process for enterprises. The first installations are launching now with select customers.