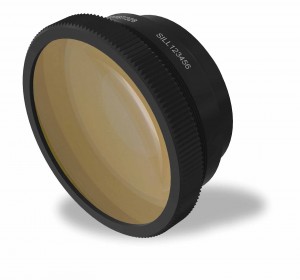 Thermal focus shift is primarily a problem for users of the S4LFT0163/126, a lens designed for marking applications with low-power lasers. Nowadays, however, high-power lasers are also frequently used for these applications due to the rapidly advancing laser development.

Therefore, Sill Optics developed a new version of this lens that is also suitable for ultra-short pulsed high power lasers. The S4LFT3167/328 is a fused silica lens with a focal length of 167 mm. Identical to the S4LFT0163/126, it is not telecentric and has a large scanning area of 100 mm x 100 mm.
The other specifications are also similar to the S4LFT0163/126. The only relevant difference is the distance between the lens and the scanner mirrors, a modification that was necessary to eliminate all critical focused back reflections in the S4LFT3167/328.