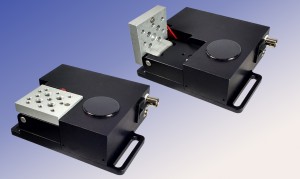 The new MMF.sd "optical mount flipper" from Siskiyou Corporation is a motorized platform that enables optical components to be rapidly moved in and out of a free space beam path on an optical table, or when embedded within an instrument. Their unique, zero-wobble pivot design ensures positioning repeatability of under 50 µrad, and can handle loads of up to 1.0 lb (0.45 kg), having a maximum height of 2 inches (50 mm). Flipper movement can be triggered either manually with a keyfob having a range of up to 100 feet (30 meters), or automatically through TTL input.
The MMF.sd mounting platform contains an array of ¼×20 and 8-32 (or M6 and M4) tapped holes. This enables them to hold a wide variety of Siskiyou optical mounts and motion stages. The motorized actuator then simply pivots by 90° to move mounted components either in or out of the beam path.
Siskiyou Corporation provides a diverse range of micromanipulators, microscope sample positioners, motion control systems and modular opto-mechanical mounts and positioners to life science and photonics researchers and OEMs. The goal of the company is simple – to offer the highest quality product at an economical price, and to support customers with superior service. Founded in 1972, Siskiyou is a vertically integrated company, performing all design, manufacturing, anodizing, and assembly in-house.