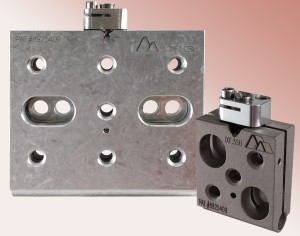 A new series of single axis platform flexures from Siskiyou Corporation offer highly stable, economical mounting of optical components, along with single axis tilt adjustment. Specifically, these IXF series platform flexures contain a matrix of both threaded and clearance holes (8-32 or M4) on both sides, enabling them to be mounted directly to Siskiyou crossed roller or dovetail translation stages, as well as Siskiyou baseplates; optical components or other optomechanical accessories can then be attached to the reverse side.
Currently, two platform flexures are available. The IXF.5St offers a 0.5 inch square mounting pattern and 4° of adjustment range, and the IXF1.0St provides a 1.0 inch square mounting pattern and 2° of adjustment range. Each size is available in both steel and aluminum versions. Steel construction offers superior mechanical and thermal stability, while aluminum confers lower weight and vacuum compatibility. The mount's use in vacuum applications is further enhanced because monolithic construction utilizes no "blind holes," or other places in the mount in which gas or volatiles can be trapped, thus eliminating the potential for outgassing.
These mounts feature Siskiyou's monolithic flexure construction, in which the entire mount – both plates and springs – are fabricated from a single piece of metal. This unique configuration yields improved heat transfer through the mount over the traditional kinematic construction, resulting in significantly better pointing stability in the presence of temperature changes. And limiting the mount to a single axis of adjustment simplifies its construction, thus reducing cost. Typical applications would be for prism, cube beamsplitter, or gradient lens mounting, or mounting of any other component that requires both single axis tilt and translational adjustment.
Siskiyou Corporation (Grants Pass, OR) provides a diverse range of micromanipulators, microscope sample positioners, motion control systems and modular opto-mechanical mounts and positioners to life science and photonics researchers and OEMs. The goal of the company is simple – to offer the highest quality product at an economical price, and to support customers with superior service. Founded in 1972, Siskiyou is a vertically integrated company, performing all design, manufacturing, anodizing, and assembly in-house.